Dehumidifier SD12 Ultra-Aire
Dehumidifier and Condensing Unit Specifications
| Part Number: | 4033175 |
| --- | --- |
| Shipped Together on Pallet | |
| Pallet Dimensions: | 42″W x 32″H x 42″L |
| Pallet Weight: | 220 lbs. |
Dehumidifier Specifications:
Part Number:
4033175
Blower:
406 CFM @ 0.0″ WG
374 CFM @ 0.2″ WG
348 CFM @ 0.4″ WG
Power:
160 Watts @ 80°F and 60% RH
Supply Voltage:
115 VAC – 1 Phase – 60 Hz
Current Draw:
1.4 Amps
Energy Factor:
3.1 L/kWh
Operating Range:
49°F Min and 95°F Max
Sized For:
Up to 4,000 Sq. Ft. – Typical
Minimum Performance at 80°F and 60% RH
Water Removal:
184 Pints/Day
Sensible Cooling:
4,300 BTUs/Hour
Efficiency:
6.6 Pints/kWh
Duct Connections:
6″ Round Inlet
10″ Round Inlet
10″ Oval Outlet
Air Filter:
Standard MERV 13
Standard Pleat
Size: 16″ x 20″ x 2″
Efficiency: 65% ASHRAE
Dust Spot
Optional MERV 14
Embossed Pleat
Size: 20″ x 24″ x 4″
Efficiency: 95% ASHRAE
Dust Spot
Power Cord:
9′, 115 VAC, Ground
Drain Connection:
¾″ Threaded Female NPT
Dimensions:
20.25″W x 21.75″H x 41.5″L
Weight:
110 lbs.
Condensing Unit Specifications
| Part Number: | 4033192 |
| --- | --- |
| Power: | 1,080 Watts @ 80°F and 60% RH |
| Supply Voltage: | 115 VAC – 1 Phase – 60 Hz |
| Current Draw: | 9.7 Amps |
| Min. Circuit Ampacity: | 20 Amps |
| Max. Fuse/Breaker Size: | 20 Amps |
| Refrigerant: | R410a |
| Operating Range: | 40°F Min, 115°F Max |
| Power Cord: | Hard Wired |
| Dimensions: | 10″W x 25.5″H x 33″L |
| Weight: | 75 lbs. |
Ultra-Aire SD12 Attic Installation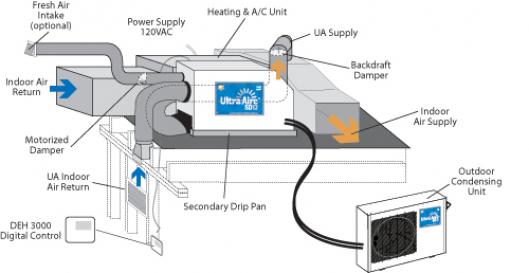 The indoor air return should come from an open area on the first floor or main level of the home / building.
The Ultra-Aire supply can be ducted into the forced air system downstream of the air conditioning coil. The duct connection should be perpendicular to the air flow. You may also run an independent supply directly from the dehumidifier into a large open room. Depending on the application, multiple returns and or supplies may be needed.
The optional six inch fresh air intake should be located at least six feet away from any exhaust ports, such as, dryer, range hood, or combustion device exhaust. Intake location should be consistent with local codes.
A section of flex duct or vibration absorbing duct should be located between the connections of the Ultra-Aire ductwork and the forced air system ductwork. (When ducting into the forced air systems)
A back draft damper should be installed when ducting into the forced air system. This prevents counter-flow of the A/C supply air through the UA SD12. A back draft damper is not needed when ducted independently.
If placed over a finished area, a secondary drip pan is recommended
Place condensing unit outside of the structure on a level pad (or bracket). If placed on a roof, vibration dampening material may be used.
Install a dedicated 120VAC branch circuit for the condensing unit.
Supply a line set suitable for use with R410A refrigerant to connect the indoor unit to the outdoor unit. The maximum allowable length of the line set is 50 feet. Braze the lines to the dehumidifier and the condensing unit.
The revolutionary new Ultra-Aire SD12 transforms how residential humidity issues are solved in hot humid climates. By removing over 180 pints of water per day and providing sensible cooling to the living space — all while adding no sensible heat load — the SD12 is the most efficient, cost-effective way to control humidity, enhance comfort, and boost indoor air quality.
The Ultra-Aire SD12 is the total solution for your customers in hot, humid climates; it provides all the benefits of supplemental whole house dehumidification with none of the drawbacks: heat load, noise, and vibration.
The Ultra-Aire SD12 features the ability to supply truly dehumidified fresh air ventilation for improved indoor air quality and achieving a slight positive pressure to the house. The ventilation function is controlled separately from the dehumidification and filtration, allowing ventilation to be customized for any application.
The Ultra-Aire SD12 includes air filtration to improve indoor air quality. A MERV 13 media filter is standard. An optional external MERV 14 filter box and deep pleated 95% media filter is available for optimum air filtration and to reduce potentially harmful airborne particles.