2017: a year that will be remembered on sustainable energy for all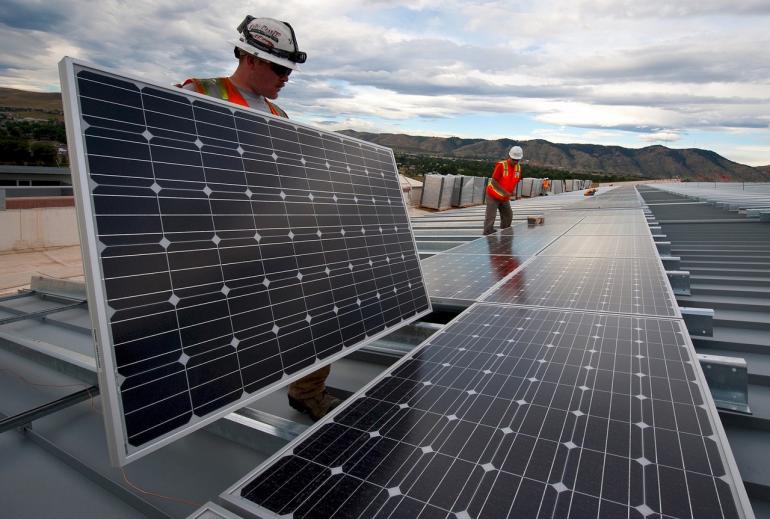 By Rachel Kyte, CEO and Special Representative of the UN Secretary-General for Sustainable Energy for All (SEforALL)
When future generations look back on 2017, they might mention in passing politically unstable backdrops, be it in Kenya or America. But the history books will be written for the ages about the positive disruptions and innovations in tackling the world's thorniest sustainability challenges, many of them tied to the Sustainable Development Goals. These changes, long lasting and profound mega trends, will be what the year is remembered for.
combustion engine-free transportation
coal-free national economies
free-falling renewable energy costs
women rising up on sustainable energy
These shifts leave me feeling optimistic about achieving our ambitious goals of leaving no one behind in the clean energy future and stabilizing our global climate under the Paris Climate Agreement.
Bigger forces are in play that have our global economy pointing irreversibly down a path powered by solar, wind and other sustainable energy and less by coal, oil and other fossil fuels. The only question is how quickly we can accelerate this shift – much of it being catalyzed by the private sector – and for whom.
This cannot be a transition of have's and have nots. Disenfranchised populations such as out-of-work coal miners, refugees and people living beyond the reach of electric grids must all be part of our sustainable energy future.
In recognition of Sustainable Development Goal 7, which calls for universal access to sustainable energy by 2030, here are 8 reasons why I believe we can achieve a sustainable energy future that leaves no one behind:
Solar to the rescue: Three powerful examples showed us solar power's vast potential as a quick, low-cost solution for people in need. While the rest of hurricane-ravaged Puerto Rico was still without power, the children's hospital was brought back to life in October by solar panels and batteries installed in the hospital's parking lot. Two weeks later, Jordan switched on the lights to the world's largest solar plant in a refugee camp – home to 80,000 displaced Syrians. Somalia also hosted a historic meeting to rid its war-torn economy of expensive diesel generators in favor of solar.
Bottling wind power: In early fall, Elon Musk bet that his company, Tesla, could install a 100-megawatt battery storage facility in 100 days in blackout-prone Australia or it would be free. On Dec. 1, Musk won the bet; he turned on the world's largest electric battery in the state of South Australia – the size of a soccer field - enabling locally-generated wind power to be used in the electric grid long after the winds stop blowing.
Blooming green bonds: Investors in developed and developing countries are all jumping in to raise money with green bonds, which are enabling energy efficiency, renewable energy and other environmentally-friendly projects in countries like Fiji, Poland and Mexico. More than $120 billion of green bonds were issued this year, a 50 percent jump from last year and a staggering 40-fold increase from just five years ago.
Mobile-Money financing: Mobile-money enabled financing, combined with plummeting solar costs, are sparking impressive gains for household solar systems in regions that need them the most – Sub-Saharan Africa and South Asia. And the prospects for far bigger growth are enormous now that the World Bank, African Development Bank and other finance institutions are getting their toes wet with innovative financing packages for off-grid solar providers.
America's Pledge: Former New York City Mayor Michael Bloomberg believes that the markets – not the federal government – will help America meet its Paris climate commitments. He made a strong case at the UN Climate Conference (COP23) last month in Germany. Joined by California Governor Jerry Brown, he unveiled an "America's Pledge" report, detailing how local and state governments, as well as private companies, are keeping the U.S. on track to meet its Paris goals.
Cleaner cooling: Climate action got another big boost last month when Sweden became the 20th country to ratify the Montreal Protocol's Kigali Amendment, which calls for phasing out high-polluting refrigerants, known as hydrofluorocarbons (HFCs), used in air conditioners and other cooling equipment. The combined impact of the treaty – and leveraging energy efficiency gains in the HFC phasedown – could avoid up to 1 degree Celsius of global warming.
Fossil-free economies: More than 20 countries committed at COP23 to phase out coal power as part of the Powering Past CoalAlliance, including Angola, Canada, the UK and Mexico. Many of the same countries – as well as global giant China – are also enacting plans to phase out combustion-engine vehicles in favor of electric vehicles. A half-dozen automakers are making similar commitments.
Power of Women: Women enterprises, with names like Solar Sahelis and Solar Sisters, are rising up in India, Nigeria, Pakistan and all across the world to seize on fast-growing sustainable energy opportunities while lifting up under-served 'last mile' communities. Launching our People-Centered Accelerator with more than 40 partners at COP23 to build on this momentum was a profoundly important highlight for me in 2017.
Success and innovation are spreading everywhere on SDG7 goals. As more women, more enterprises and more governments embrace clean energy, clean transportation and other forms of sustainable energy, we can move ever closer to our vision of affordable, reliable clean energy for all. The challenges ahead are daunting and 2018 will be a critical take-stock year, but I am optimistic we are on the right path.
Happy peaceful holidays for all.
Photo: Tesla turns power back on at San Juan's Hospital del Niño (Children's Hospital).