Aeroventic – International online marketplace for HVAC industry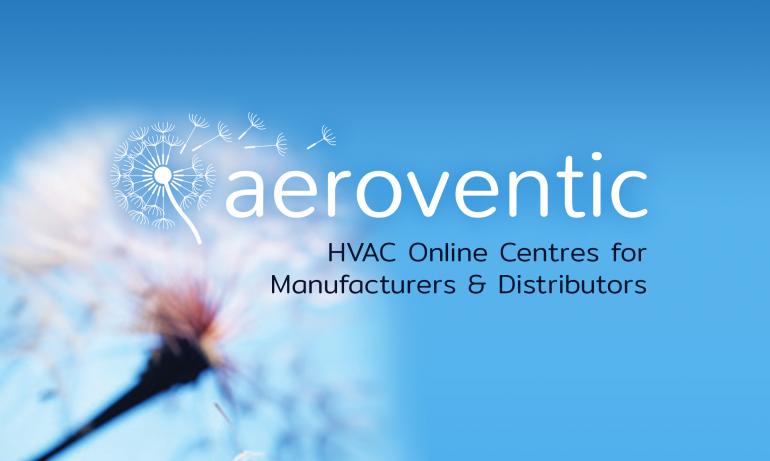 This article discusses the HVAC industry in light of the dynamic Internet development. Firstly, the very trendy and ubiquitous Internet of Things Phenomenon. Then, new approach to online sales and marketing communication. Last but not least, the global project Aeroventic dedicated exclusively for the HVAC business will be presented.
The Internet Revolution: It is much bigger than you think
One cannot argue the fact that the Internet in the HVAC industry plays a very significant role. This is well illustrated by the Modern Concept of the Internet of Things (IoT) and its impact on smart HVAC controls market. The very term "the Internet of Things" was coined by Kevin Ashton of Procter & Gamble, later MIT's Auto-ID Center, in 1999. To put it simply, the IoT refers to the connection of devices (other than standard computers and smartphones) to the Internet. Experts estimate that the IoT will consist of about 30 billion objects by 2020. IoT has revolutionized the operation of HVAC regulators in an unimaginable way. The Internet of Things drives innovation in HVAC products and manufacturers compete in delivering smart technologies that improve energy efficiency, comfort, remote monitoring, convenience, and ease of use. There is no doubt, the digital revolution continues its course, and will continue it over the next decades.
Taking into account the above, it is worth mentioning that the Internet is also one of the greatest communication tools of all time. However, there is great competition in the market. To do well in the face of strong competition one needs to be aware that planning effective and integrated web communication is a key factor in any marketing and sales strategy. How to gain a competitive advantage in online business?
In order to reach as many customers as possible for products or services, one should invest in multi-channel and integrated information management in the global market. Good website is a great start, but that is not enough. Thematic websites, newspapers, local business listings, social media, thematic forums are a must these days in order to be able to create positive brand image and build engaged brand community.
Let us introduce Aeroventic – International Internet based online solution for the HVAC sector.
For whom?
Aeroventic is dedicated to manufacturers, distributors, installers,designers who want to fully exploit the Internet and end-users seeking reliable information on products and services.
Aeroventic structure
Aeroventic is currently available in 9 countries.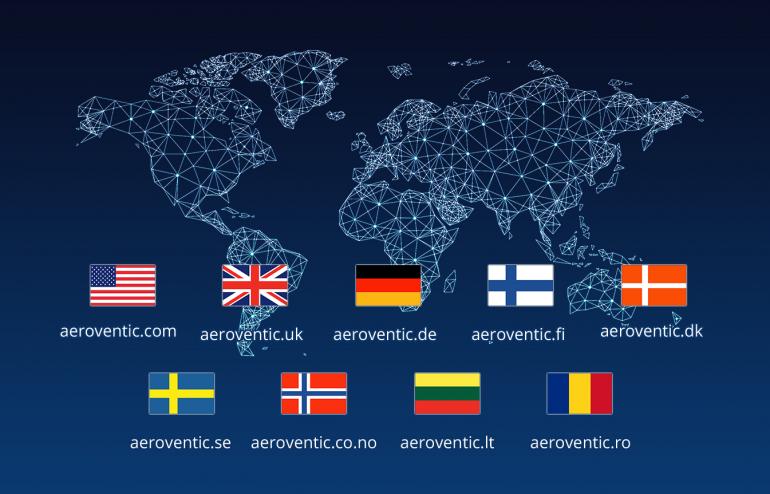 These websites have been prepared in native languages and function independently of each other. Such geographic division enables suppliers to diversify their product offering and adapt their marketing and sales communication to the particular region. Suppliers can present different products or services in different countries depending on their sales targets. In 2018 Aeroventic will be available in additional countries such as: United Arab Emirates, Canada, Italy, Czech Republic, Slovakia, Ukraine, Russia, Croatia and more.
What are the Benefits?
Possibility to present product portfolio in target country
Professionally prepared business profile with clearly stated business objectives
Reaching key audience groups
Press release sites
New markets exploration
Chance to strengthen competitive position
Traffic from target countries
Interaction with the target audience via product inquiries
Staying updated with the industry news
Social media promotion
Case studies
The promotion in international marketing, which is a specific form of "intercultural meeting" of the company with selected target groups of buyers in other countries, has a distinct characteristic in the form of a different communication system, legal, social and cultural conditions in which we want to operate. We will present 3 companies that take advantage of Aeroventic's potential. Thanks to this we will try to present the wide range of opportunities offered by the platform.
NEUTEC GmbH is the German provider of technically advanced and energy-efficient heating devices. They offer devices with EC motors, created for heating of: restaurants, workshops, warehouses, car washes, shops and so on. The competitive advantage is built by the best quality confirmed by TÜV Rheinland Group and the shortest market delivery time. A multi-level quality control system allows NEUTEC to offer the longest, standard 5-year warranty for devices. NEUTEC has decided to launch its new air heaters sonnEC on the following markets: Germany, Sweden, Denmark, Norway, Finland and the United Kingdom. Therefore, sonnEC air heaters were placed on the following websites: aeroventic.se, aeroventic.dk, aeroventic.fi, aeroventic.co.no, aeroventic.uk where comprehensive information on them can be found by distributors, installers or designers.

See NEUTEC Gmbh at Aeroventic Germany: http://aeroventic.de/firmen/neutec
Temko & Universal is a leading manufacturer in Romania, that offers high performance HVAC ventilation systems. SPIRO, round ducts, as well as rectangular ducts are their key products. Temko & Universal is present at Aeroventic Romania, where they promote its ventilation systems with an emphasis on the innovative smoke and fire protect line that meets the highest fire safety requirements. This is an example of a supplier with a strong market position. Temko uses Aeroventic to build up its image as a professional Romanian manufacturer of cutting edge products.

See Temko & Universal at Aeroventic Romania: http://aeroventic.ro/companii/temko-universal
Manufacturer of patented slot diffusers AirIdea that is looking for distributors in countries such as Denmark, Lithuania, Germany and United Kingdom. In this case Aeroventic supports the supplier in establishing new business contacts and reaching their goal.

See AirIdea at Aeroventic Denmark: http://aeroventic.dk/firmaer/klima-oprema-polska
If you are interested in joining Aeroventic, or wish to get more information, please contact: office@aeroventic.com
Author: Joanna Kosinska
Project manager
e-mail: office@aeroventic.com
phone: +48 733 259 515