Daikin Launches New VRV T - Series Water Cooled Systems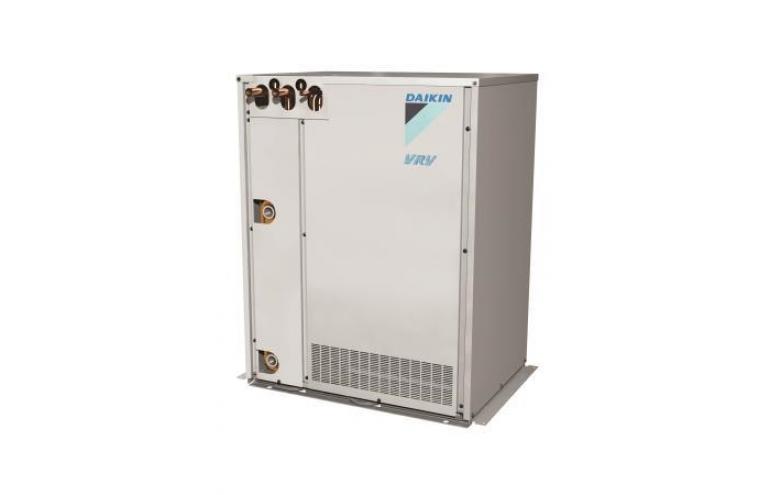 Daikin
HOUSTON, December 08, 2017 – Daikin North America LLC has announced the launch of the new VRV T-Series Water Cooled condensing units providing all the same attributes of an Air-cooled VRV system such as low sound levels, advanced comfort control and zoning, plus the added flexibility for cold climate applications and buildings with water loops or geothermal applications. The new VRV T-Series provides efficiency improvements of up to 37% IEER and up to 33% COP compared to previous PC-Series.
New single modules in either 208-230V/3Ph/60Hz or 460V/3Ph/60Hz, are now available in compact, single module 8-, 10- and 12-ton sizes. Single modules can be manifolded together, with up to three units to form one system of up to 36 tons.

Main Features and Benefits
Wide offering with 6-, 8-, 10- and 12-ton single-modules and up to 36-tons with multi-modules.
Up to 64 indoor units1 can be connected to one system.
Space reduction of up to 50%1 and up to 37%1 weight reduction compared to previous PC-Series.
Reduced cabinet height allows double stacking with 7ft and triple stacking with 11ft ceilings.
Combined VRV and VRT technology provides year-round comfort and energy efficiency.
Longer refrigerant piping lengths provide more design flexibility compared to previous PC-Series:


Maximum level difference between indoor units increased from 49 ft. to 98 ft.
Maximum linear length increased from 390 ft. (459 ft. equiv.) to 540 ft. (623 ft. equiv.).
Maximum allowable linear length from first REFNET joint increased from 130 ft. to 295 ft.2

Heat Rejection Cancellation Technology minimizes mechanical room conditioning and service space requirements.2
Drop-down electrical box for ease of installation and service.
Multi-position top or front refrigerant connections provide installation flexibility.
Auxilary Heat Auto Changeover provides added peace of mind.
New configurator tool provides off-site programming for easy on-site commissioning.
Digital display provides fast installation configuration, commissioning, and troubleshooting.
10 year parts limited warranty and 10 years replacement compressor limited warranty.3
1Model specific - Check product specifications for details.
2Conditions and rules apply - Refer to Installation Manual for further details.
3Complete warranty details available from your local distributor or manufacturer's representative or at www.daikinac.com.

###

About Daikin
Daikin Industries, Ltd. (DIL) is a Fortune 1000 company with more than 50,000 employees worldwide,
and is recognized as one of the largest HVAC manufacturers in the world. Daikin North America LLC (DNA)
is a subsidiary of DIL. DNA and its affiliates manufacture heating and cooling systems for residential, commercial and
industrial use and are sold via a select group of independent HVAC contractors. DIL manufacturing operations include
facilities at Houston, TX and Fayetteville, TN. For additional information, visit www.daikinac.com and
www.daikincomfort.com.
Additional Information:
Before purchasing this appliance, read important information about its estimated annual energy consumption, yearly
operating cost, or energy efficiency rating that is available from your retailer.
The "Daikin" and "VRV" trademarks are owned by Daikin Industries, Ltd. and Registered in the U.S. Patent and Trademark
Office.
Daikin North America LLC • 5151 San Felipe, Suite 500 • Houston, TX 77056
Main: 713.861.2500 • www.daikincomfort.com and www.daikinac.com