Force 5 HVAC - Comes with nozzle straw for precise application!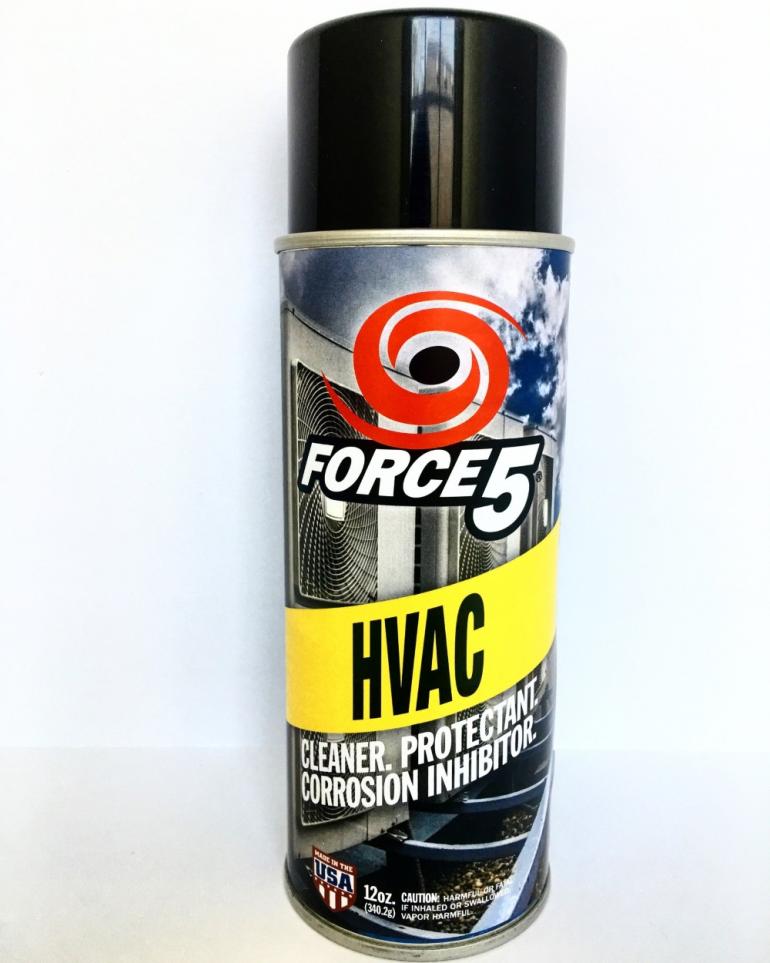 Force5 HVAC is a fast-acting, penetrating compound that cuts through dirt, rust and corrosion, quickly getting into metal parts that have become frozen or encrusted.
Force5 HVAC provides a long-lasting dry lubricant, which reduces friction. It helps dry out wet electrical gears and other water sensitive parts, and will actually improve electrical performance by cleaning and protecting contacts and internal parts, including circuitry and connections.
Force5 HVAC protects by providing a shield-like film against the effects of moisture and corrosion, even against salt water, while repelling sand, dirt and dust.
• Contains no CFC's or other ozone depleting substances
• Will not harm materials such as rubber, paint, most plastics, and wood finishes
• Non-flammable
• Safe to use as directed
The heat exchangers that cool the coolant are fins of aluminum or copper. In a high salt environment along the coast the air pulled through the evaporator causes corrosion on these cooling fins and first diminishes the cooling capacity of the unit as corrosion impedes the heat transfer. Ultimately, they cooling coils fail due to corrosion and electrolysis. The corrosion inhibitors in Force 5 HVAC formula bond with the metal cooling coil and prevent corrosion. In the event that the system has some corrosion already the Force 5 HVAC product will stop the corrosion and contribute to the removal of existing corrosion.
Force 5 HVAC should be applied once per year for best protection. If the heat exchangers are fully exposed to sunlight these should be treated twice annually to compensate for UV breakdown of the Force 5 HVAC.
Add the use of Force 5 HVAC treatment to your client's regular annual checkup and extend the life of their unit beginning immediately. One twelve ounce can of Force 5 HVAC is enough to treat at least two evaporator units. If you prefer using a larger commercial spraying device we do produce this product in 5 liter containers.
The same environments that cause corrosion in HVAC units also corrode cars, door handles, mail boxes, bicycles, motorcycles, ATV's and a lot more. Be sure to check out our fine Force 5 Products for all applications you may have for our products.