Geoclima presents the new chiller series Circlemiser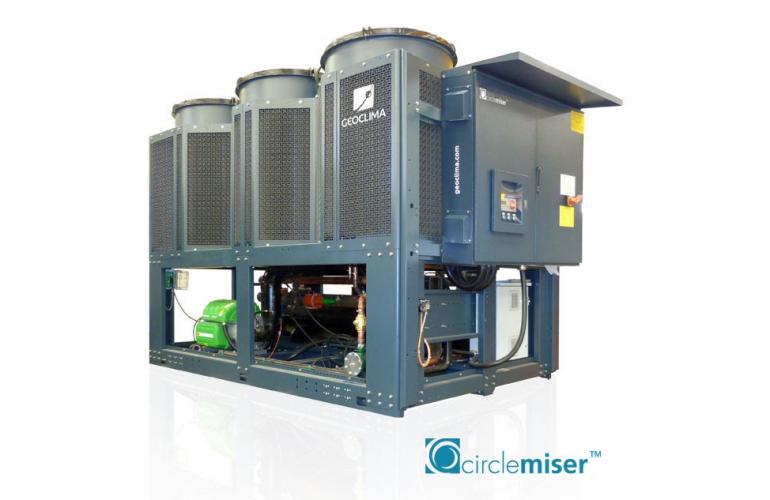 July 24, 2017 - Geoclima, a company specializing in the design and production of non-standard chillers for applications in air conditioning and refrigeration systems, is proud to present Circlemiser, the new series of high efficiency air cooled chillers. The new Circlemiser series is characterized by incomparable performance and efficiency levels, with an increase in EER up to 15%, improving the high efficiency already provided by Turbomiser, designed by Geoclima.
The technological innovation of Circlemiser is in the design and development of special cylindrical condensers, and the installation of cascade flooded evaporators.

The special cylindrical condensers have an heat exchange surface increased by 45% compared to traditional condensers, maintaining at the same time the same footprint. Thanks to the increased heat exchanger capacity, this special cylindrical configuration makes it possible to reduce condensing temperature as well as approach temperature.

In addition to cylindrical condensers, Circlemiser chillers are also equipped with cascade flooded evaporators, which lead to the reduction of the ΔT between evaporation temperature and outlet temperature of the fluid. The cascade arrangement of the evaporators increases the evaporation temperature and, at the same time, reduces energy consumption. Using this type of evaporator Geoclima has been able to further increase efficiency across the range of the Turbomiser air cooled chillers.

The new Circlemiser series sets itself as the most efficient air cooled chiller series available on the market today, with the highest achievable value of EER 4.35 and an increase in efficiency up to 15% compared to high efficient technologies.
Geoclima present the new Circlemiser series for air cooled Turbomiser units, both with R134a and with HFO-1234ze refrigerants.
For more information: http://www.geoclima.com/circlemiser/
Geoclima is an Italian company with more than 20 years of experience in the HVAC sector, specialized in the design and production of non-standard chillers for applications in air conditioning and refrigeration systems, with particular attention to quality and environment. Established in 1994 in Italy, Geoclima has continued to expand worldwide and now it can count on production facilities in Italy, Russia and Thailand and sales and service offices in Italy, Austria, Russia and Australia. Geoclima group also includes companies specialized in production of AHUs, heat exchangers and flanges. This presence in different countries and in different areas of HVAC makes it possible for Geoclima to provide complete service and turnkey solutions.

For more information, visit: Geoclima