Haier Ductless to Intro Two New Product Series at AHR Expo 2018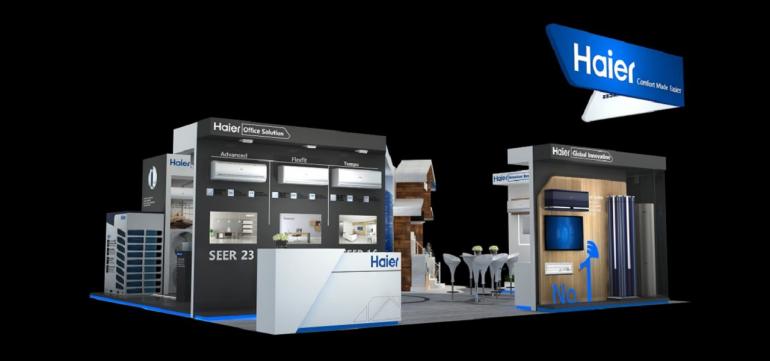 Haier
Chicago, Jan. 22, 2018 (AHR Expo Exhibit N3156) – Contractors looking for easy control of multi-zone applications—including connected capabilities for remote operation—can visit Haier Ductless at the 2018 AHR Expo in Chicago to learn more about two new product line introductions: the Arctic Multi-Zone Series, Wi-Fi® enabled lineup and a full line of light commercial offerings.
Arctic Multi-Zone Series
Featuring Haier Heat Plus technology, the Arctic Multi-Zone Series ductless system (models 2U20EH2VHA & 3U24EH2VHA) can bring homeowners exceptional year-round comfort, making it easy to heat and cool multiple zones in apartments and residences while reducing the monthly electric bill.
The system will be available in summer 2018 and can achieve 100% rated heating capacity at 5°F (-15°C) while delivering toasty warm air even at -13°F (-25°C). This ENERGY STAR®-rated performer also comes with a 10-year compressor and parts warranty with product registration.
Duct-related losses in efficiency can make ductless systems 30 percent more efficient than conventional heating and cooling solutions. Today, ductless systems continue to increase in popularity as building efficiency standards grow more rigorous and as a greater number of energy-conscious consumers look for smarter ways to save.
New WiFi Features
At the same time, connected home appliances are fast shaping the future household, and now contractors can arm their customers with an all-new level of comfort control. With Haier Ductless's new WiFi technology coming in spring 2018, owners can control their ductless system from anywhere, or simply check the status of the system using their smartphone.
This programmable, connected ductless solution features calendar scheduling that makes setting heating and cooling schedules easy and intuitive, helping consumers cut utility costs without sacrificing comfort. The system can also issue error code notifications and alert owners to other issues before they become a problem.
"Builders and contractors asked us for more options to make installations easier, while giving owners precise control of their heating and cooling, and we're excited to respond with these two new, innovative systems that can deliver more convenience than your traditional thermostat," said Nick Shin, vice president and business unit leader, Haier Ductless.
Critical specifications for the Arctic Multi-Zone and WiFi Series systems are as follows:
Model Name
System
Multi
Multi
Brand
Haier
Haier
Outdoor
2U18EH2VHA
3U24EH2VHA
Max # of Zones
2 indoor zones
3 indoor zones
Cooling
Rated Capacity Btu/hr
18,000
22,000
SEER
18
18
EER
12.5
12.5
Heating Non-Ducted
Rated Heating Capacity
22,000
25,000
HSPF
10.3
10.3
Operating Range
Cooling °F(°C)
23 - 115(-5 - 46)
23 - 115(-5 - 46)
Heating °F(°C)
-13 - 77(-26 - 25)
-13- 77(-26 - 25)
Power Supply
Voltage, Cycle, Phase V/Hz/-
208-230/60/1
208-230/60/1
Outdoor Noise Level dB
55
55
Refrigerate Line
Connections
Flare
Flare
Maximum Line Length Ft/m
165/50
230/70
Maximum Height Ft/m
50/15
50/15
Maximum Line Length for each individual indoor unit Ft/m
82/25
82/25
Warranty
year
10/10
10/10
Thanks to a wide range of capacities, features and styles, Haier ductless systems can provide tailored solutions for many of the most popular residential and light commercial jobs, delivering energy savings, simplifying installation and fitting seamlessly into virtually any space.
AHR Expo visitors can learn more about the Arctic Multi-Zone and WiFi Series systems at the Haier Ductless exhibit (booth #N3156). Also visit http://www.haierductless.com or connect at http://www.facebook.com/Haierductlessair and @haierductless to find more options to fit your business.
About Haier Ductless
Haier is one of the leading producers of HVAC products with capacity to produce 20 million units per year and with 10% of global market share. Haier employs more than 60,000 people around the world and distributes products in more than 100 countries and regions with global revenues over $38 billion in 2016. For more information, please visit www.haierductless.com or connect at http://www.facebook.com/Haierductlessair and Twitter @haierductless.