Introducing the Tekran 2537Xi-NG Analyzer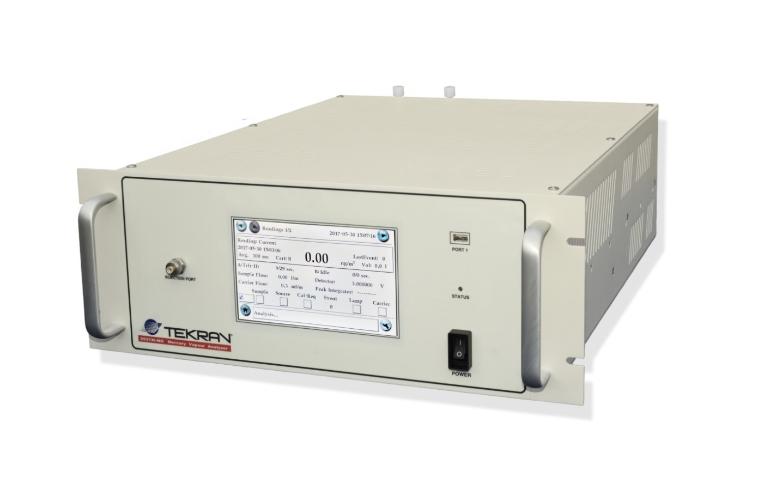 Introducing the NEW Tekran Model 2537Xi-NG Natural Gas Mercury Monitor. The analyzer is specifically designed to accommodate the analytical requirements for natural gas methods ASTM D6350 and ISO 6978.
This includes the ability to automatically perform sampling cartridge breakthrough measurements and recovery assessments. The Tekran 2537Xi-NG also has all the typical features of the 2537X platform including high resolution touch screen interface, local data storage, and network communication port for remote data retrieval and full remote instrument control.
Key Features
• Complies fully with ASTM-6350 and ISO-6978
• Unique dual-bed gold-quartz trap and pure gold analytical cartridge
• Analytical cartridge never exposed to sample gas for clean operation
• Multiple automated QA routines validate method performance
• Range 1 ng /m3 to 2000 ug /m3
• Network enabled for remote operation
Electronics Platform and Detector Features
• Touch screen interface
• Local data storage and front panel USB port for data retrieval
• Additional functionality via optional s/w plugins ( i.e. valve multiplexer)
• New lamp stabilizer and detector electronics w/ digital PMT control and display
• Easy cuvette removal via convenient fitting interface
Flow Path – Calibration – Quality Assurance Features
• Valve assemblies with low dead -volume and inert PEEK surfaces
• Integrated sample and breakthrough trap assessment with option for single or combined heat provides options for measurement and QA assessment
• Constant power heater control insures consistent temperature over heater life
• Unique design isolates analytical trap from complex natural gas matrix ; the trap is only exposed to carrier gas for improve accuracy, precision and robustness
• Integrated permeation source allows assessment of trapping efficiency, matrix effects and routine automated calibration.
Physical Layout
• Instrument case design allows free air exchange throughout instrument to improve overall safety rating
• Improved component accessibility for routine maintenance
Specifications (Beta)
| | |
| --- | --- |
| Analyte | Total gaseous mercury in natural gas |
| Principle | Dual-bed gold pre-concentration with CVAFS detection. |
| Range | 1.0 ng/m3 to 2000 ug/m3 |
| Sampling Cycle | 2.0 – 60 min |
| Sampling | Alternating s ample collection and analysis cycles |
| Data Outputs | Network (1), USB Device (1), USB Host (2), RS -485 (2), RS -232 (1), Analog Chart (2) |
| Sample Flow | 0.1 - 0.5 L/min |
| Flow Totalization | Precision mass flow controller (MFC) |
| Pump | Internal, variable speed (MFC feedback loop control) |
| Carrier Gas | Argon or Nitrogen |
| Consumption | < 6 L/day (full size tank lasts 2 to 3 months) |
| Carrier Setpoint | Precision mass flow controller. Carrier flow is set to one of 3 settings during each desorption cycle. MFC provides superior stability and accuracy |
| Calibration | Automatic multi -point calibration using internal permeation source. Manual injection port also provided |
| Physical | Self -contained with maximum internal and external case venting . 19" rack mountable ( 4U height) |