Johnson Controls introduces a new test center for screw compressors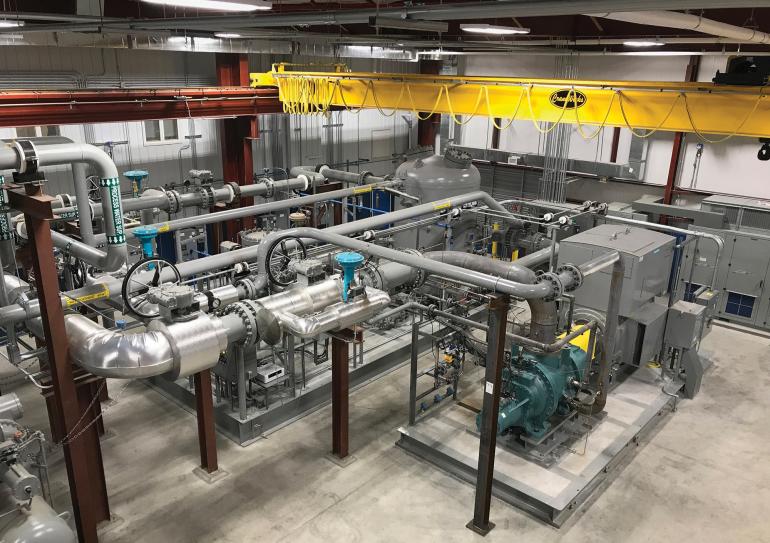 Anew, 7000-sq.ft. (650-m2), US$6.7 million screw compres­sor testing laboratory has been constructed at Johnson Controls' manufacturing plant in Waynesboro, Pennsylvania, USA. One of the largest of its kind, the laboratory will be used to test large screw compressors that support refrigeration and compression applications in the oil and gas and process industries. According to Johnson Controls, the new laboratory will provide their customers with the confidence of confirmed performance of load tested compressors. Bill Jackson, presi­dent, Johnson Controls Global Products, stated that because of the lab's size and capabilities, he's confident it "will soon be known as the center for screw compressor technology in North America."
TECHNOLOGY BACKED BY THE CONFIDENCE OF TESTING
"Screw compressors have continued to grow larger, and re­quired pressures have continued to increase. In addition, we have been in development on a hydrodynamic (sleeve) bearing design on our largest compressors, which is a change from our traditional anti-friction bearing design. These factors enabled us to build a strong case for the investment in this new lab," said Robert F. Fahey, GM, Global York Process Systems, a unit of Johnson Controls. Oil-flooded screw compressors are one of
Johnson Controls' primary businesses, and the company's pen­etration of the API-oriented oil, gas, and petrochemical indus­tries can be enhanced through the development of the sleeve bearing offerings on large compressors, made possible with this lab. Fahey also said that because of the higher pressure capabili­ties, gas turbine fuel gas compression and industrial heat pumps will benefit from the testing in the new lab.
Features of the lab include high-pressure (>1000 psig [>6.895 MPa]), high-power (5000 hp [3728 kW]), and variable speed ca­pabilities. Fahey said that these capabilities will allow for a very broad range of expected operating conditions to be tested. The 5000-hp variable speed electric motor sits at the heart of the lab and is capable of driving the company's largest compressors up to 1000 psig discharge pressure.To remove the heat of com­pression and achieve the desired suction temperatures, an am­monia refrigeration system is included, equipped with a Frick RWFII 177 screw compressor with an electric motor drive and a cooling tower. The new lab operates on nitrogen, with the ability to model a wide range of gases.
Testing officially began in April 2017 and the first scheduled test campaign is currently nearing completion.
BY ANGELA JARRELL