Panasonic Environment Vision 2050
The management philosophy of Panasonic is based on the belief of our founder, Konosuke Matsushita, who said: Since a company runs its business by borrowing people, things, money, land, and so forth from the society, a company is "a public entity of society." He also said that the role of a company, which is a public entity of society, is to contribute to the society, and therefore if the company's activities destroy nature and take away people's happiness, it would be like putting the cart before the horse.
Panasonic currently focuses on four business areas: consumer electronics, housing, automotive, and B2B, under the brand slogan "A Better Life, A Better World." "A Better World" means to face various social challenges including environment, energy, and safety, aiming to contribute to realizing a sustainable society by resolving such challenges.
To date, Panasonic has executed the Environmental Action Plan "Green Plan 2018", and has shown steady progress to achieve its targets. Meanwhile, with environmental and/or energy issues becoming more serious at a global level, the concern for such issues is increasingly growing in the international society, as can be proven by the Paris Agreement or SDGs (Sustainable Development Goals) by the United Nations.
Under these circumstances, we wish to help build a society with clean energy to realize both "a better life" and "a sustainable society" by making full use of our technologies in all of our business areas. The reasons why we focus on clean energy are because: (1) use of clean energy is developing at a global level; (2) this is an area where Panasonic can greatly contribute to with its businesses; and (3) many of our products consume power over a long period and our businesses create the most environmental impact in this area.
With such background, in 2017, Panasonic formulated the Panasonic Environment Vision 2050 ("Environment Vision 2050"), as a long-term vision for environmentally sustainable management.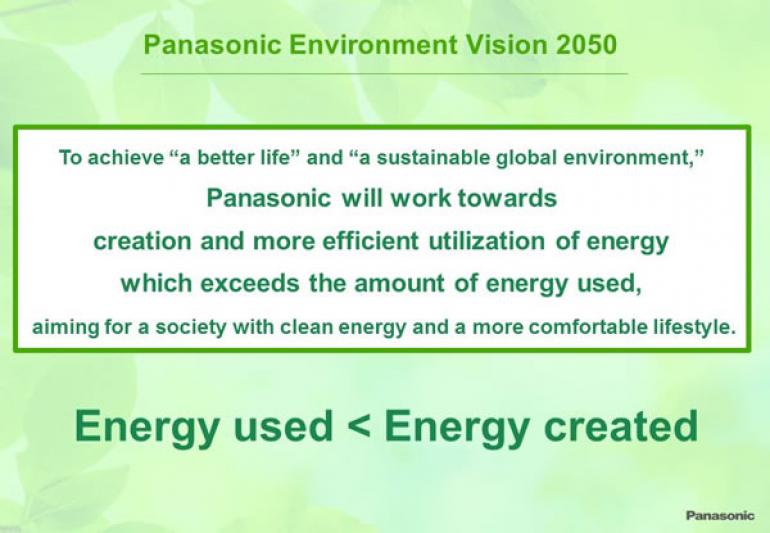 The Environment Vision 2050 means to work towards creation and more efficient utilization of energy which exceeds the amount of energy used, aiming for a society with clean energy and a more comfortable lifestyle.
Currently, relative to the amount of energy used (energy used in our business activities such as during production, and energy used by products in the hands of our customers), the amount of energy created (clean energy that is created and/or made available by products and services by Panasonic, such as photovoltaic power generation systems, storage batteries, and energy solutions) is merely one-tenth. From now on, for the energy used, we will develop technologies for improving energy-saving performances of products and innovate manufacturing processes to reduce the amount of energy consumption. For the energy created, we will expand energy-creation and storage businesses as well as contribute to new social systems such as a hydrogen society to increase the amount of clean energy.
Through these efforts, Panasonic will endeavor to make the "energy created" exceed the "energy used" toward the year 2050.
Activities for Achieving the Environment Vision 2050
One of the initiatives to realize the Environment Vision 2050 is "creating a safe and secure society with clean energy." To be specific, we will work to provide eco-conscious and smart living spaces as well as contribute to eco-conscious and smart travel and transport.
Another initiative is "promoting businesses aiming for a sustainable society." We will work to promote effective utilization of resources as well as promote the creation of factories with zero CO2 emissions.
1. Panasonic will Create a Safe and Secure Society with Clean Energy
The eco-conscious and smart living spaces that Panasonic strives to provide means living spaces that create clean energy from electricity and/or hydrogen, and then storing/transporting the created energy. Such living spaces offer a safe and secure life with clean energy enabled through appropriate energy management for energy-saving equipment and buildings with high insulation performances. Here, living spaces refer to not only homes of individuals but also working or learning spaces, and spaces for living or leisure. It refers to all spaces relating to people's lives.
In order to realize this, Panasonic will work on development of environmental technologies from the four viewpoints of energy creation, energy saving, energy storage, and energy management.
As for energy creation, in particular, we will develop fuel cell technologies that use next-generation solar cells, or hydrogen derived from clean energy as energy sources. At the same time, for energy storage, we will work on technologies relating to storing and/or supplying hydrogen, and storage batteries. These will expand the possibilities of utilizing clean energy anywhere in the society.
We will also work on developing environmental technologies to realize eco-conscious and smart travel and transport. With further development in technology of storage battery systems for eco-cars such as electric vehicles, we will contribute to promoting the shift from fossil fuels to clean energy. Additionally, for a safe mobility society, we will work on further development of support systems for autonomous driving and utilize our IoT technology etc. to realize next-generation logistics/transport solutions that help arteries in the society flow more smoothly.
2.Panasonic will Promote Businesses Aiming for a Sustainable Society
As efforts to promote effective utilization of resources, Panasonic will aim for sustainable use of resources through the reuse of parts and materials and product recycling.
To create factories with zero CO2 emissions, we are switching the lighting to LED, and plan to complete this transition by the end of fiscal 2019*1. We will also expand the utilization of advanced energy-management systems such as FEMS*2 and smart manufacturing. In addition, we will complete the adoption of photovoltaic power generation systems in all our business sites by 2020*1 as an initiative to increase energy creation.
*1: Installable sites
*2: Factory Energy Management System