Shurtape Announces Fourth Year of Mission: HVAC Program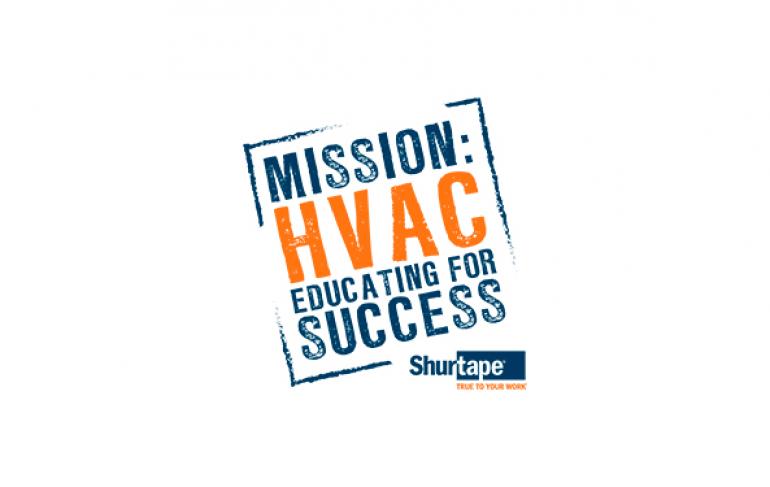 shurtape.com
Company seeks up to three new HVAC students to follow through a year of trade school
HICKORY, N.C. (January 2018) – Shurtape Technologies, LLC, a leading manufacturer and marketer of pressure-sensitive tapes, is searching for HVAC students to participate in the fourth year of its Mission: HVAC, Educating for Success program. Up to three students will be selected to participate in this year's program, in which they will be challenged to apply their classroom learnings and real-life experiences to complete themed missions throughout the year, earning cash to help offset the costs of their education.
Over the past few years, there has been a growing concern among those in the HVAC industry over the future of skilled trades. Today's HVAC workforce has been aging out and retiring with too few replacements, creating a shortage of skilled workers to do the job. The costs of receiving an education can also be high, making it difficult for employers to find trade-educated replacements for retirees. That's why, in 2015, Shurtape introduced Mission: HVAC, a program designed to help support the next generation of HVAC students.
Over the course of 10 months, up to three students – selected via an application process open to students from technical schools nationwide – will be given 10 HVAC-themed missions that will require them to do research, conduct interviews with HVAC pros and educators, and analyze their own experiences studying and practicing HVAC skills. Each student will compile their findings into blog posts that will be shared on Shurtape's education-focused website, TapeUniversity.com. By participating in the program and completing all 10 missions, each will be rewarded with $5,000 to put toward the cost of their education and position them for future employment.
"We're here to put to rest the stigma against skilled trades. The HVAC industry is brimming with opportunities, and we've seen time and time again from our students the level of craftsmanship and pride that HVAC pros have in their jobs," said Lisa Zierfuss, product manager for building and construction tapes at Shurtape. "As a career path, these students are choosing more than just job security– they are choosing rewarding work, daily satisfaction in a job well done, advancement opportunity, and much more. But the cost of earning the education required to be the candidate that many employers demand can be high. We want to shed light on the hard work and dedication that it takes to get a technical education, and help offset the costs for our three student participants."
For HVAC students interested in being one of 2018's Mission: HVAC participants can apply online at https://www.shurtape.com/missionhvac/. The application period will be open from January 2 through January 31, 2018.
Stay tuned to meet the selected students and follow their journeys at TapeUniversity.com. To learn about Shurtape's HVAC solutions, including the comprehensive line of foil, film and composite tapes, visit Shurtape.com.