SENSAIR COMFORT AIR CURTAIN
The SensAir includes all knowledge Biddle has gathered the past 60 years with regard to climate separation in a door opening.
Auto-active control of energy and comfort
The Sensair ensures high energy savings and a comfortable indoor climate by cleverly combining four technologies. The patented i-sense infrared technology collects the temperature data in the door opening, the automatic CHIPS translates it continuously it into the correct setting and the optimal climate separation is created by means of the Controlled Air strength and rectifier technology.
Intelligent control and monitoring
Biddle has an extensive range of control options: a local control by means of the b-touch, remote monitoring (b-connect) or integration in a Building Management System using the standard integrated Modbus connection.
CONTROL SensAir
Auto-active control
- Self-regulating
- Always in the correct setting
- Intelligent software
- b-touch control panel
- Modbus communication (standard integrated)
- b-connect monitoring
TECHNOLOGY SensAir
i-sense
CHIPS
Controlled Air strength
Rectifier grille


A new wave in climate separation
SensAir air curtains are the ideal solution for retailers and other end-users to combat the issue of climate separation across their
outlet or office building doorway. The importance of accessibility to attract customers in the retail sector is well-known, but with this
free form of access through 'open door' trading, cold draughts and high-energy bills are often the consequence.
High comfort and energy efficient
The SensAir technology has been improved to deliver greater comfort for all, whether it is in a supermarket, high street store or office building. The SensAir air curtain, does not act as a barrier in the place of a door, its prime role is to reduce the amount of warm air leaving the building and condition the incoming air to a comfortable temperature.
BSRIA and Biddle research produced documented evidence proving that air curtains operate best with specific velocities and air volumes. The SensAir air curtain satisfies these needs by delivering the right air flow and temperature at the right time automatically, reducing energy loss. Furthermore it is the only commercially available air curtain of its kind that now offers a unique air damper system to improve efficiency, by controlling the outlet velocity.
Intelligent auto-active control and monitoring
The auto-active control is the next generation of controls. Knowing that manual control of air curtains often leads to the incorrect setting the inclusion of the automatic CHIPS (Corrective Heating & Impulse Prediction System) technology ensures the most appropriate setting at any moment in time. The i-sense in the discharge grille measures the indoor and outdoor temperatures active in the door opening resulting in accurate data. This auto-active control has been demonstrated to produce energy saving savings of up to 75% when compared with a manually controlled air curtain.
Biddle has an extensive range of control options: the b-touch control panel, remote monitoring of comfort and energy performance and connecting to a BMS is easy through the standard integrated Modbus connection.
Benefits
Energy efficient and high comfort
- improved accuracy of temperature data collection
- correct settings are adjusted actively and automatically
- comfortable inside climate and inviting appearance
- low sound level

Intelligent control and monitoring
- self-regulating: auto-active control
- remote monitoring: b-connect
- Modbus: integrated as standard

Installation & maintenance-friendly
- easy to assemble and set up (b-touch)
- ready-to-use, integrated control

Complete customized solution
- customer specific styling possible
- suitable for various heat sources
A suitable solution for every situation
The SensAir has endless possibilities. The SensAir creates optimum climate separation in all doorways and is also suitable for a range
of heating sources. There is a solution available for many monitoring and control options.
SensAir range (SR)
Free hanging (F)
Recessed (R)
Cassette (C)
Heating media
Water heating (H3): suited for every water temperature
Electrical heating (E)
Ambient (A): without heating
DX (DK): in combination with Daikin systems
Control options
auto-active control with b-touch control panel
b-connect monitoring module
Modbus communication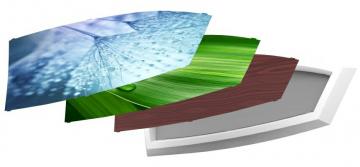 Capacities
S = Small (200 - 240 cm) (80" - 95")
M = Medium (220 - 280 cm) (85" - 110")
L = Large (250 - 330 cm) (100" - 130")

Lengths (cm)
Doors wider than 250 cm (100") are covered by placing
multiple units next to each other.
100 - 150 - 200 - 250 cm
40" - 60" - 80" - 100"

Standard colours
Traffic white (RAL 9016) with inlay end panels in silver grey
(RAL 9006)
Silver grey (RAL 9006)
Other RAL classic colours available on request

Customer-specific styling
The inlays in the end panels are supplied in grey and white as
standard. The inlays in the end panels can also be styled
specifically if required (e.g. colour and logo).

More information
For more information about the SensAir range there are two additional supporting brochures available:
- Technical performance information about the water, electric, hybrid and ambient versions.
- Information about the DX version, in combination with Daikin heat pump systems.