Air heater NOZ₂ Biddle
Energy efficient heat source brings comfort to large spaces
Biddle is proud to present the NOZ₂, an air heater that offers optimal, efficient heating to large and high-ceilinged buildings. Achieving substantial energy savings and a comfortable working environment is a dual challenge, which the NOZ₂ accepts in style. Model NOZ₂ meets these requirements by combining its strong points, such as an optimal air distribution, minimal heat loss and fully automatic controls.
Automatic heat where it is needed
NOZ₂ when connected with automatic controls will constantly maintain the set temperature. This is possible as a result of the energy-efficient EC fans which have stepless control. The warm air at ceiling level is automatically and effectively recycled to maintain the constant temperature at floor level.
NOZ₂ Gas
The NOZ₂ air heater is also available in a gas-fired version. The NOZ₂ Gas contains a built-in gas burner that ensures that the heat is distributed.
CONTROL
Automatic control
- Self-regulating
- Always the correct setting
- Intelligent software
- b-touch control panel
- Modbus communication
b-control
- Stepless control (0-10 V)
- On/off (room thermostat)
- EC fans
- Easy to set
- Control multiple devices
Energy-efficient heat source provides comfort in large rooms
When it comes to providing large, and often high buildings, with the best possible source of efficient heating Biddle has the solution; an air heater that easily surpasses other air heaters. Combining high energy savings with a comfortable working environment is a challenge that the NOZ takes on with verve. The NOZ meets these requirements with its compelling customer benefits such as optimal distribution of air, minimal loss of heat and fully automatic control.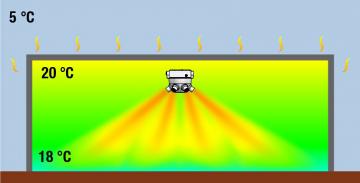 Biddle NOZ air heater:
optimal air distribution & minimal heat loss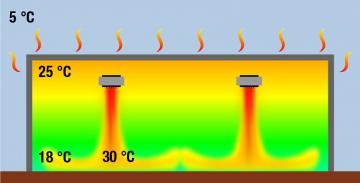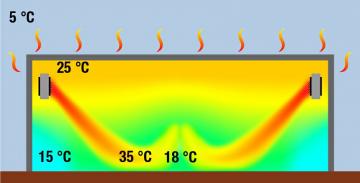 Conventional ceiling and wall heaters:
large temperature differences & high heat loss
Energy-saving climate control
The NOZ air heater is the ideal energy-efficient solution. The NOZ minimises temperature differences in the room and heat loss to the outside environment. Warm air naturally rises up to the ceiling. Adjustable nozzles gradually redistribute the warm air from the ceiling to the floor level. Warm air is discharged downward through the nozzles with high velocity and induces movement of the surrounding air.

As a consequence heated air is distributed optimally throughout the room. The NOZ has a large influence area, which means fewer devices may be required. The temperature at the top of the room drops considerably by using the inducing effect of the NOZ . As a result, less heated air escapes outside via the roof and walls, which results in considerable energy savings. Furthermore on average 15% less power is consumed to heat up the room than with conventional heating devices.

Automatic heating where needed When the NOZ is fitted with automatic controls it constantly maintains the set temperature. The new energy efficient (EC) fans have stepless control, which ensures the fan runs at the optimum speed. The NOZ energy efficiency is further enhanced by using the fans to provide destratification so that the warm air at ceiling level is re-used to automatically maintain a comfortable working environment at floor level. All this is achieved without any need for the user to adjust the controls.
Various heat sources
The NOZ can be configured to be suitable for any desired heating source including water heating, ambient, gas and/or ventilation models.
Applications
The NOZ air heaters are suitable for rooms from 4 - 16 m (13 - 52 ft) in height such as factories, storage rooms, warehouses, DIY shops and sports halls.
A suitable solution for every situation
Possibilities:
Suspended ceiling model
For ceiling heights between 4 - 16 m (13 - 52 ft)
Recirculation and/or ventilation unit
Two models: NOZ 25 (small range) and NOZ 50 (large range)
Supply NOZ 25: 230V and NOZ 50: 480V
Heat source:
Water: see below for possibilities
Ambient: without heating
Gas: with the exception of NOZ 50 (information available upon request)
Control options:
Automatic control with b-touch control panel and CHIPS technology
Basic control with b-control (0 - 10 V)
BMS: Modbus communication
Standard colours:
Combination RAL 5011 / 9006
RAL 9006
Other RAL colours available on request
Types of water coils:
Standard: H2 (2-row), H3 (3-row) and H6 (6-row)
The NOZ with automatic control can be provided for many water ranges (max. water temperature 120 °C / 16 bar - 248 °F /
232 psi) The discharge temperature is limited by the control to 50 °C (122 °F). In the case of an uncontrolled basic model,
consideration should be given to the maximum temperatures of 90/70 °C (194/158 °F) for the H2, 80/60 °C
(176/140 °F) for the H3 and 60/40 °C (140/104 °F) for the H6.
On request: H1p (1-row)
Suitable for high water temperatures (130/110 °C - 266/230 °F, 150/130 °C - 302/266 °F and 175/155 °C -
347/311 °F) and for high pressure (max. 23,8 bar / 345 psi). Delivered with welded flanges.