ASHRAE Launches Global Training Center In Dubai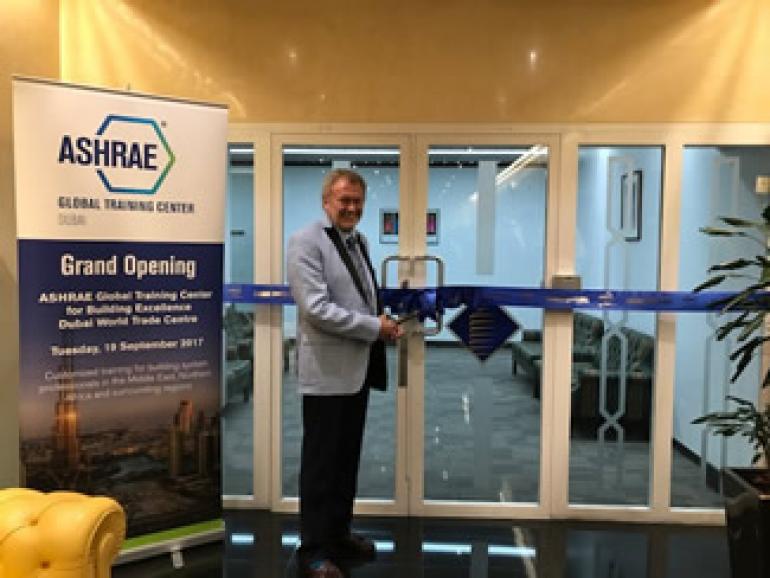 ATLANTA – ASHRAE celebrated the grand opening of its new Global Training Center in Dubai with a ribbon cutting ceremony and reception today. The Global Training Center will serve ASHRAE members and other building systems professionals in the Gulf Region and surrounding areas.
"ASHRAE and our members are working tirelessly toward our goal of extending our global community to better embrace our industry's shared needs and objectives," said 2017–2018 ASHRAE President Bjarne W. Olesen, Ph.D. "Dubai was an intentional and obvious location to establish the ASHRAE Global Training Center. In doing so, we hope to ensure the technical guidance we produce for all members continues to strengthen through global diversity. This center will empower our members in the Middle East with the knowledge they need to better serve the needs of their local communities."
The focus of the ASHRAE Global Training Center is to make curricula-based training conveniently available on a regular schedule. The training offered in the center is customized and scalable based upon climate, culture, suppliers, energy sources, prices, codes and construction practices. The center's instructors are engineers familiar with the intricacies of the Middle East.
To commemorate the opening, ASHRAE hosted a day of events, including a ribbon cutting ceremony, media tours of the facility, and presentations from key ASHRAE members, including some of the center's course instructors.
"The education and training ASHRAE provides is critical to advancing sustainable technology for the built environment," said Walid Chakroun, Ph.D., and former chair of ASHRAE's Publishing and Education Council. "The ASHRAE Global Training Center will bring the Society's industry leading resources together with highly respected instructors to the Middle East, where robust economic activity and challenging climatic conditions are creating an ever-increasing demand for ongoing training."

Also in attendance at the Global Training Center grand opening was Ahmed Alaa Eldin, Ph.D., Assistant Regional Chair, ASHRAE Region-At-Large, and a course instructor at the Global Training Center. Dr. Ahmed spoke about the importance of having the training center located in the Middle East market.
"ASHRAE established this center to be an unparalleled resource for building systems professionals in the Gulf Region and surrounding areas," said Dr. Ahmed. "The Global Training Center will allow ASHRAE members, engineers, and other professionals to access much needed training and education on the many intricacies required to operate more efficient buildings in the Middle East."
The Global Training Center held its inaugural training from Sept. 10–13. The course, "HVAC Design Essentials" provided participants with practical skills and knowledge to design and maintain HVAC systems. Participants received real-world examples of HVAC systems based on the renovated ASHRAE Headquarters and on buildings in the Middle East and Northern Africa (MENA) region. The training leaders for this course were Walid Chakroun, Ph.D., Fellow ASHRAE, and Donald Brandt, BEAP.
Courses are scheduled through the remainder of 2017 with the next available training opportunities to be held in October.
"Variable Refrigerant Flow Systems: Design and Applications," on Oct. 15, will provide an overview of variable refrigerant flow (VRF) technology, including equipment and system types, heating/cooling operation, heat recovery, and the benefits of VRF systems. Also described is the VRF design process, including load profile analysis, unit sizing, ventilation air strategy, refrigerant piping design, and system monitoring/controls. Refrigerant safety considerations are explained, including a discussion of ASHRAE Standards 15 and 34. The course concludes with a focus on human comfort and sustainable design featuring example buildings, ventilation systems, and VRF system layouts. It will be taught by Hesham Safwat, Ph.D., Member ASHRAE.
"Air-to-Air Heat Recovery Fundamentals & Applications," on Oct. 16, will feature guidance on one of the most cost-effective and efficient ways to recycle waste energy and create superior indoor environments. This course reviews real-world examples of where and how air-to-air energy recovery technologies are integrated into some of the most common, commercially available systems. A variety of different dedicated outdoor air systems, neutral air systems, and enhanced dehumidification strategies will be examined in detail, along with the advantages and important considerations for using air-to-air energy recovery in many different applications. Hassan Younes, Member ASHRAE, will provide the training.
All courses are eligible for Professional Development Hours (PDHs). Credits correspond to the hours of instruction. These credits are recognized by the ASHRAE Global Training Center for Building Excellence.

For more information and a complete list of upcoming courses, please visit www.ashrae.org/globaltrainingdubai
About ASHRAE
ASHRAE, founded in 1894, is a global society advancing human well-being through sustainable technology for the built environment. The Society and its more than 56,000 members worldwide focus on building systems, energy efficiency, indoor air quality, refrigeration and sustainability. Through research, standards writing, publishing, certification and continuing education, ASHRAE shapes tomorrow's built environment today. More information can be found at www.ashrae.org/news