ATMOsphere America 2017 demonstrates that natural refrigerants are ready for prime time in North America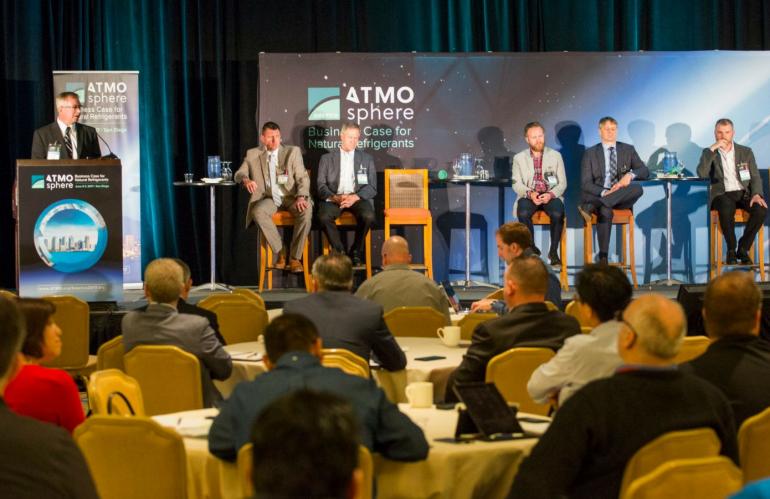 San Diego, California, June 14, 2017: The sixth annual ATMOsphere America conference, held June 5-7, brought together more than 370 HVAC&R industry leaders from North America and beyond to the Loews Coronado Bay Resort – perched on a 15-acre peninsula parallel to downtown San Diego – to delve into the latest developments in natural refrigerants.
The conference featured presentations by end users, manufacturers and policymakers driving the adoption of natural refrigerant systems in North America. It included for the first time an in-depth on-stage interview with the CEO of a major natural refrigerant equipment supplier – Steve Trulaske of True Manufacturing. At a special awards breakfast and ceremony, the Accelerate America 2017 awards were presented to end users, a manufacturer and a 'Person of the Year'. And attendees were able to take advantage of exceptional networking opportunities at the conference and off-site at the elegant Prado restaurant in San Diego's historic Balboa Park.

The conference's location – California – was appropriate as it is the most environmentally progressive state in the U.S., with plans to enact regulations that will substantially limit the use of hydrofluorocarbon (HFC) refrigerants. In fact, representatives of the California Air Resources Board (CARB) held a special session on its Short-Lived Climate Pollutant (SLCP) Strategy, soliciting input from attendees on its HFC-reduction proposals via a series of electronic polling questions.

The key message throughout the conference was the ability of natural refrigerant technologies to replace HFC equipment in commercial and industrial applications.

"ATMOsphere America 2017 was shecco's most ambitious and far-reaching event to date, with the most end users and the most diverse array of educational opportunities," said Michael Garry, editor of shecco's Accelerate America magazine. "The progress made by natural refrigerants – and the potential for this technology going forward – was clear throughout the event."

The first day of the conference began with pre-event workshops by major equipment providers Heatcraft, Emerson and Danfoss, which featured its CO2 Mobile Training Unit, located outside in the parking lot. The conference officially kicked off in the afternoon with a Thought Leaders panel discussion featuring representatives of Whole Foods Market, Walmart Mexico, Newark Refrigerated Warehouse, Source Refrigeration, Frialsa, Hillphoenix and Sustainable Solutions. That was followed by an in-depth look at the regulations and standards impacting the uptake of natural refrigerants, with representatives of CARB, IEC, UL, IIAR, the California Energy Commission and EOS Climate.

The second day of the conference offered a full day of sessions, including a market trends and opportunities panel, followed by three sets of parallel sessions. Among the parallel sessions were two end user panels: Food Retail (featuring Hannaford, DeCA, Whole Foods, Target, AAA Refrigeration and the AB Group) and Industrial: (US Cold Storage, Henningsen Cold Storage, Newark Refrigerated Warehouse, Western Gateway Storage and Permacold Engineering). Other sessions included: Innovation, Training, Commercial Refrigeration Case Studies, the Future of Food Service, HVAC Case Studies and Industrial Refrigeration Case Studies.

The final day started with the presentation of the Accelerate America awards. The winners were Whole Foods Market (Food Retail Sector), US Cold Storage (Industrial Sector), Nestlé (Foodservice Sector), Hillphoenix (Innovation of the Year for the AdvansorFlex), and Paul Anderson, senior director of engineering for Target (Person of the Year).

The awards ceremony was followed by the first-ever CEO interview (conducted by Garry and shecco CEO Marc Chasserot), a utilities panel and the CARB SLCP discussion.

The utilities panel included representatives of four California utilities (SCE, SMUD, PG&E and SDG&E) as well as Whole Foods and Hillphoenix, and was moderated by Ammi Amarnath, senior program manager, energy efficiency and demand response, Electric Power Research Institute. The CARB discussion was led by Pamela Gupta, manager, greenhouse gas reduction strategy section, CARB, and Glenn Gallagher, air pollution specialist, CARB.

Watch a video highlights reel of ATMOsphere America.


See extensive media coverage of the conference on Storify, ammonia21.com, r744.com and hydrocarbons21.com.

See all the presentations from the conference and event photos on the ATMOsphere website.

Other ATMOsphere events will be held in 2017 in Bangkok (September 6) and Berlin (September 25-27). Next year's ATMOsphere America will return to California, this time in Los Angeles.

Sponsors

Platinum: Hillphoenix

Gold: Heatcraft, Danfoss, Emerson, Güntner, Embraco, Dorin

Silver: Blupura, Bitzer, CAREL, True Manufacturing, Baltimore Aircoil Company, Parker Hannifin, AHT Cooling Systems, CIMCO Refrigeration, Evapco, Climate Pros, Mueller Industries, Permacold, SPX Cooling Technologies, K65, Arneg USA

Bronze: Alfa Laval, EcoThermics Corporation, Temprite, RSES, Galileo TP, Kawasaki Heavy Industries, Tecumseh Products Company, Colmac Coil Manufacturing Inc., Azane, KAV Consulting, Secop, Source Refrigeration & HVAC, NXTCOLD, ebm-papst, efficient energy, Huayi Compressor Barcelona, Stellar, Fives Filling & Sealing, Electrical Power Research Institute, AB Group, Carnot Refrigeration, Frick, Enreps, Hussmann, MicroGroove, RefPlus

Partners: IIAR, NASRC

About shecco

For the last 15 years market accelerator shecco has been active in helping bring climate friendly technologies faster to market. shecco supports over 150 partners worldwide in the HVAC&R sector, where the focus is on sustainable refrigeration, heating & cooling technologies using natural refrigerants. shecco offers a variety of services in three areas: 1) media, including online industry platforms and magazines; 2) market development, including market research, consultancy and public affairs services, a catalogue of dedicated research reports, and special international projects; and 3) events, including international conferences and national workshops.