AVTECH Introduces New "Active Power Sensor" for Data Center and IT Markets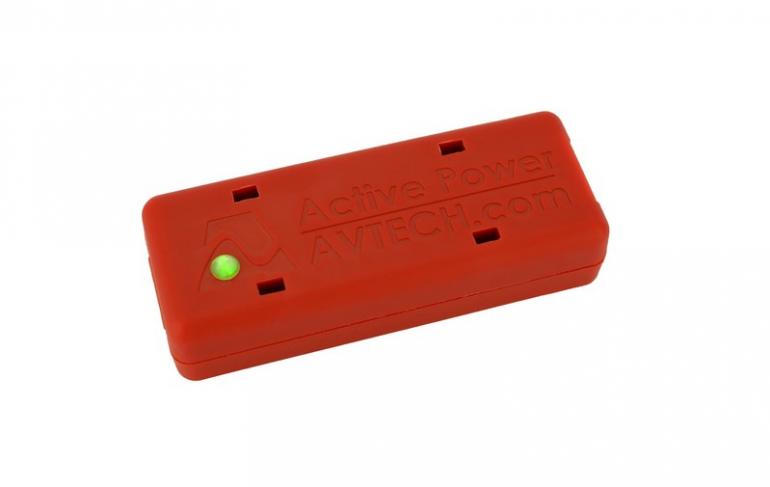 AVTECH Software, Inc. (AVTECH) has introduced a new patent pending Active Power Sensor to their line of Room Alert-compatible sensors. The new Active Power Sensor eliminates the need to unplug or physically modify power cables to add power monitoring to any AC-powered electric device with power use from 100 Watts to 1800 Watts.
The Active Power Sensor was developed by AVTECH to help provide the power status of servers and related equipment in data centers. It is important to monitor the power status of critical servers and systems, but not always possible to unplug or power down production equipment to add other types of power sensors. AVTECH's new Active Power Sensor solves this primary challenge and has wide-ranging additional applications as it can be attached to any standard power cable. In addition to providing power status, the Active Power Sensor also provides real-time temperature readings. For data centers, this means it's now easier than ever before to monitor the power status and hot aisle exhaust temperature for any system or server without unplugging or modifying the power cable.
AVTECH has been in business since 1988 and manufactures Room Alert, the world's most popular data center, IT and facilities environment monitor. Room Alert is made in the USA and proactively monitors environment conditions such as temperature, humidity, flood, power, smoke, and more. Room Alert is currently used in 184 of 196 countries by organizations ranging from thousands of SMBs through Amazon, Boeing, Sprint, Microsoft, over 80% of the Fortune 1000, the United Nations, Pentagon, all branches of the US government and military, all 50 states, and many local governments and educational facilities.
"Our new Active Power Sensor is designed to monitor the power status of devices that requires near 100% uptime, such as servers and critical hardware like firewalls and phone systems," said Richard Grundy, President of AVTECH. "It's also great for monitoring equipment that is hard-wired to an electrical panel, such as pumps, electric motors and HVAC equipment. Before the Active Power Sensor was introduced, users needed to either unplug servers or appliances that were already running to install a power monitor, or they needed to physically modify the power cable to isolate conductors to add a current loop. Our Active Power Sensor can be attached to the outside of any power cord and begin providing immediate readings. The sensor's small footprint lets it be installed unobtrusively in any area and also has an internal temperature sensor which can help alert on elevated heat readings in addition to power issues."
The Active Power Sensor was developed, designed, and manufactured in the USA by AVTECH and is fully compatible with any current model of Room Alert. AVTECH anticipates data center and IT professionals being the early adopters of the Active Power Sensor, and the preferred installation point of the sensor will be on power cords directly next to server exhaust fans. An alert could be triggered by the temperature of the air exiting the server or a loss of current within the power cord, providing notice of a potential overheating server, power problem or inadvertent shutdown.
"Our team's foresight in adding a temperature component to the Active Power Sensor helps to widen the possibilities for use," added Michael Sigourney, CEO and Founder of AVTECH. "We anticipate widespread use in data centers, server rooms, and IT closets worldwide to help monitor temperature and power status of critical servers. It can also be used to monitor the power status to other appliances such as security hardware, telephone systems, freezers and refrigeration units, HVAC systems, and so much more. The uses for the Active Power Sensor are almost limitless, and we are confident it will help reduce outages across countless industries."
The Active Power Sensor will retail for $95 and will begin shipping on September 15, 2017