Carrier Transicold Improves ComfortPro® Diesel APUs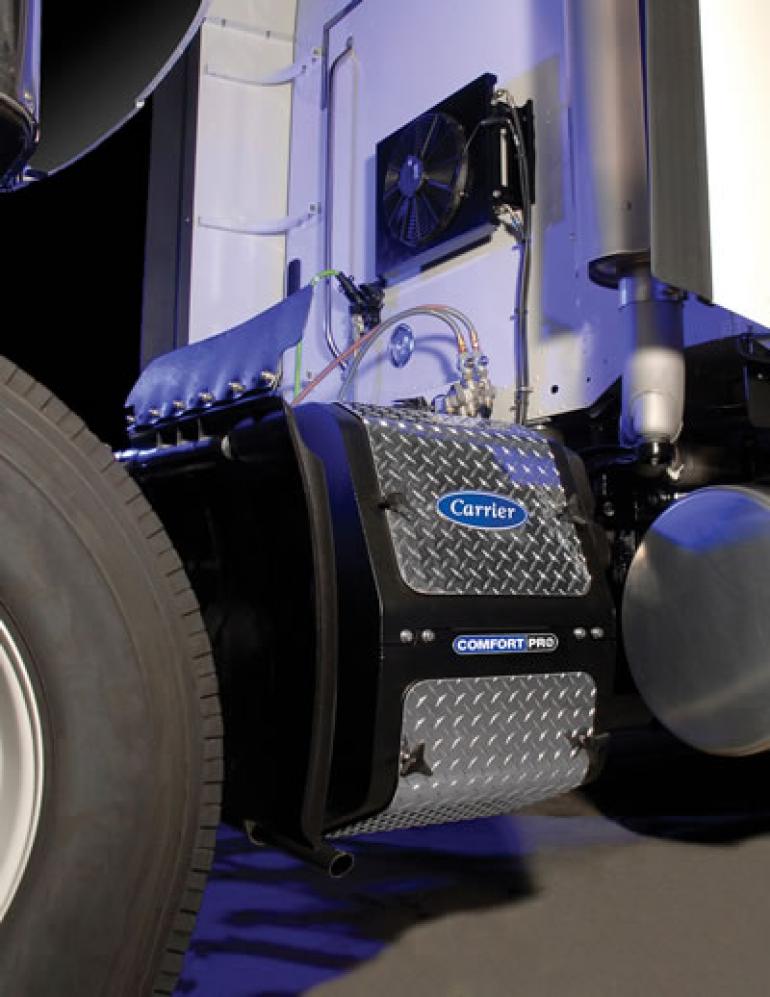 carrier.com
The latest generation of ComfortPro® diesel-powered auxiliary power units (APUs) from Carrier Transicold includes upgrades that improve reliability, reduce maintenance and double the length of the service interval. Carrier Transicold is a part of UTC Climate, Controls & Security, a unit of United Technologies Corp.
Among the latest enhancements are a new automotive-style multi-V drive belt and a tensioner that automatically adjusts the belt to help maintain full voltage output of the generator when the APU is running. This eliminates manual belt tensioning, as periodically required with earlier models. Also, the system now uses high-performance CK-4 heavy-duty engine oil, enabling the maintenance interval to be extended from 1,000 to 2,000 hours.
"Backed by Carrier Transicold's extensive dealer network, ComfortPro diesel APUs offer the trucking industry the most well-rounded suite of performance and features," said Ryan Rubly, product manager, alternative power, Carrier Transicold. "When Carrier Transicold acquired the ComfortPro line last year, one of our top priorities was engaging our engineers to improve the APUs based on feedback from our dealers and customers. These latest design revisions significantly advance the product in terms of service ease."
By providing cab climate control and other capabilities, APUs reduce truck idling, helping drivers comply with local and regional anti-idling regulations while saving fuel and reducing wear and tear on their truck engines.
Fully featured ComfortPro diesel-powered APUs offer air conditioning, heating, cab power, engine warming, truck battery monitoring and charging, plus optional shore power connectivity – more capabilities than standard APU offerings from other providers. These models provide 12,000 BTUs of cooling and up to 10,000 BTUs of heating for year-round driver comfort. Additionally, the 6 kW generator provides ample power for hotel loads, while also helping to maintain the truck battery's charge and automatically keeping the truck engine warm in cold weather. The shore power option enables functionality by plugging into a 110/120-volt source instead of running the APU engine.
Carrier Transicold offers three fully featured diesel-powered ComfortPro APUs: integrated, stand-alone and an integrated version with a ClearSky® diesel particulate filter to further reduce emissions as required in California for certain applications. A fourth, power-only model provides electricity for household accessories for applications where no cab climate control is needed.
With the integrated models, tractor engine warming is provided via APU coolant exchange. The stand-alone model provides the same capabilities but the tractor and APU coolant systems are independent, with the APU's generator powering the tractor's block heater to warm the engine.
Additional details on ComfortPro diesel-powered APUs can be found in a 12-page brochure, available online from Carrier Transicold at www.carrier.com/comfortpro. For more information, or to schedule an installation, turn to the experts in Carrier Transicold's North America dealer network.