CHIGO Gains China Patent Excellent Award!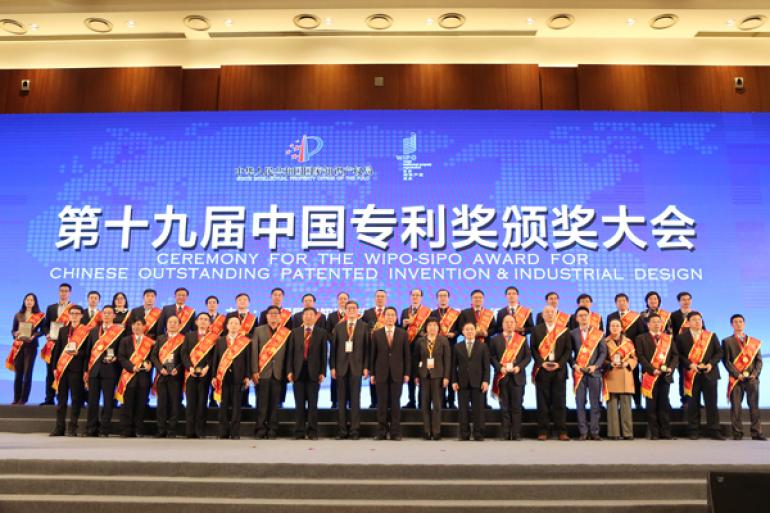 On Dec.13, the 19th China Patent Awards Ceremony was held in Beijing by the State Intellectual Property Office (SIPO) and the World Intellectual Property Organization (WIPO) jointly. Guangdong CHIGO Air Conditioning Co.,Ltd was awarded with the China Patent Excellent Award for developing a cloud air conditioning system(patent NO.:ZL201210321826.9)based on cloud computering, which has won high recognition due to it being the first to apply cloud computering technology to air conditioning.
As we all know, the China Patent Award as well as its selection is hosted by the SIPO and the WIPO every year since 1989. This award, also known as the Oscar award among patent awarding, is the highest governmental award for the field of intellectual property in China. It is highly recognized by the United Nations World Intellectual Property Organization, and also highly valued around the world. CHIGO gaining the award this year, is not only a recognition for CHIGO's intellectual cloud air conditioning technology, but also a recognition for CHIGO's insistence on technology leadership for over 20 years.
In 2012, CHIGO launched the first intellectual air conditioner in the world. For the first time, we tried to blend clouding computering into air conditioning industry and this was a brand new revolution to intellectual inverter air conditioner. And then, CHIGO invested 1 more billionRMB to build up intellectual cloud air conditioning big data center, which provides a new intellectual experience for every CHIGO air conditioner user.
In 2015, CHIGO launched the world-class flagship product---the Smart King air conditioner, and published the intellectual cloud+ ecosystem.
Then in 2017, CHIGO launched grandly the forth generation Smart King product---No.200 and No.91, which promoted transformation for Chinese air conditioning industry from the inverter orienated 2.0 era to the smart air conditioner orienated 3.0 era.
Based on mass data, CHIGO collects verious data during air conditioner operation process, and tries to detect and analyse through these data, aiming to find out the exact problem the occurs in the end users more precisely and scientifically. This will be effectively helpful to reduce concerns from end users to the professionality of our after sales team, and then, help promote transparency, standardization and convenience for after sales services of air conditioner, bringing brand new user experience to the end consumer.
According to report of the 19th National Congress of the Communist Party of China, we should advocate culture innovation, strengthen intellectual property creation, protection and utilization. As a main part of intellectual property, patent is the most representative and important index for technology innovation.
CHIGO has always put emphasize on science and technology and also protection to its patent. In recent years, intellectual property increase rate of CHIGO has been kept at around 25%. And increase rate of those formulation for international, national, industrial standards that were led or paticipated by CHIGO has been kept at 200% every year. On the list of the Industrial Enterprise Intellectual Property Utilization Benchmarking Enterprise released by the National Ministry of Industry and Information, there are only 60 enterprises from verious industries that are successfully shortlisted, CHIGO is the only professional air conditioning manufacturing enterprise that on the list.