Cleaver-Brooks CBEX Dryback Elite Boiler Offers Near-Perfect Combustion in a Small Footprint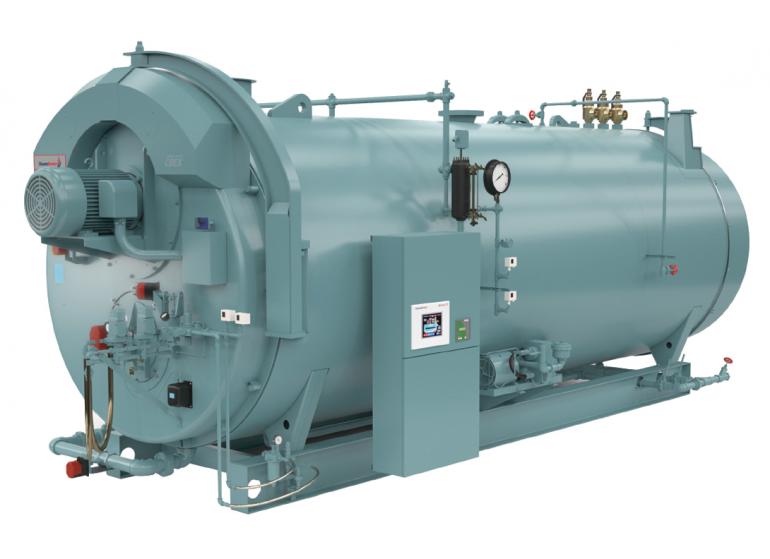 Cleaver-Brooks announces the launch of CBEX Dryback Elite, the newest member of the Cleaver-Brooks "EX" family. Like its waterback cousin, the CBEX Dryback Elite achieves 3% O2 across its 10:1 turndown range. The standard package offers 30 ppm NOx with
The CBEX Dryback Elite is generally 20% smaller than other firetube models and heats up 20% faster. Its dryback construction offers unencumbered access to all parts of the boiler for ease of maintenance.
"The CBEX Dryback Elite was designed with our exclusive EX technology," said David Brick, firetube product manager for Cleaver-Brooks. "The boiler offers superior combustion along with extended surface tubes that transfer 85% more heat than traditional tubes.
"Additionally, the boiler has a larger furnace and simplified design for reduced stresses within the vessel," added Brick.
Engineers at Cleaver-Brooks used advanced computational fluid dynamics (CFD) to optimize the integration of core competencies, including burner, controls and heat recovery, which led to dramatic improvements in efficiency and emission reductions. In addition, CFD modeling helps reduce thermal gradients and stresses in the system, ensuring a long pressure vessel life as well as a reduction in downtime and maintenance compared to traditional systems.
The CBEX Dryback Elite includes the Hawk control system for precise boiler/burner management and safety with logic-based ancillary devices and functions. The linkageless Hawk offers options for oxygen trim and variable speed drive control and can be customized and optimized for any system. It is compatible with building automation systems and is NFPA and UL compliant.
The CBEX Dryback Elite is specifically designed to fit inside a shipping container for a complete operable boiler room shippable worldwide up to 1000 HP. All components are supplied by Cleaver-Brooks for single-source responsibility.
Cleaver-Brooks has a dedicated alliance of factory-trained representatives who can be contacted for consultation, sales, maintenance and aftermarket support. To locate a representative, visit cleaverbrooks.com or call (800) 250-5883.