Daikin Applied gives Building Owners New Insights to Lower Operational Expense with Intelligent Equipment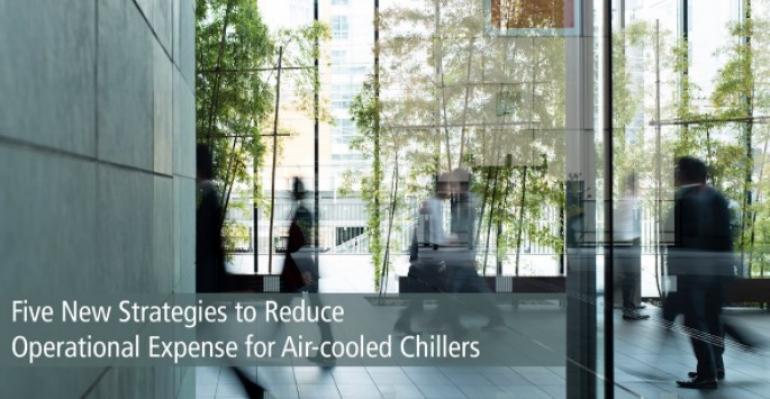 MINNEAPOLIS – May 31, 2017 –– Daikin Applied is serving up a blueprint to help building owners and facility managers dig into new ways of cutting costs. A newly published white paper, "Five New Strategies to Reduce Operational Expenses for Air-Cooled Chillers," can offer building owners savings of more than $20,000 per year by leveraging the power of Intelligent Equipment®.
Customers will learn how solutions like Intelligent Equipment deployed uniquely at the unit level will help them save in multiple areas of HVAC management, from commissioning to operating to trouble-shooting.

The energy expense to operate chillers is often a significant source of a property manager's operational and maintenance budget. This white paper outlines how Intelligent Equipment can directly contribute to energy savings with real-time HVAC management, including: energy monitoring to increase efficiency, commissioning to dial in equipment for savings, inspection reporting and preventative maintenance, performance trends and analytics, and 24/7 monitoring for service and maintenance.

"With our investment in Intelligent Solutions® and Intelligent Equipment® we are helping data acquisition and analytics become a reality, and we are leading the way in commercial HVAC," states Paul Rauker, VP/GM, Daikin Intelligent Solutions. "This technology is helping building owners and contractors deliver comfort to their customers in a sustainable way while reducing operational expense. It's a win for all."
Intelligent Equipment can achieve commissioning cash-on-cash returns of 91 percent for existing buildings and 23 percent for new buildings. This savings is accomplished with real-time monitoring of 325 data points from the chiller controller, allowing customers to easily and quickly troubleshoot and fix inefficiencies with their air-cooled chiller. Remote monitoring and virtual inspection reports through this cloud-based solution can save $1,000 to $2,000 per year through more efficient service resolution and response efficiency.

Not only does Intelligent Equipment monitor energy consumption, it also uses inspection reporting and preventative maintenance to increase operational life expectancy. When factoring the high capital costs of purchasing and installing chiller equipment, a well-planned and well-executed preventative maintenance program yields significant dividends on the life span, energy usage, and other operational costs of a chiller.
After reviewing "Five New Strategies to Reduce Operational Expenses for Air-Cooled Chillers" please visit our website or contact your local sales representative to learn more about Intelligent Equipment.

About Daikin Applied
Daikin Applied, a member of Daikin Industries, Ltd, designs and manufactures technologically advanced commercial HVAC systems for customers around the world. Customers turn to Daikin with confidence that they will experience outstanding performance, reliability and energy efficiency. Daikin Applied equipment, solutions and services are sold through a global network of dedicated sales, service, and parts offices. For more information or the name of your local Daikin Applied representative, call 800-432-1342 or visit, www.DaikinApplied.com.

About Daikin Industries Ltd.
Daikin Industries, Ltd. is a Forbes 1000 global company with 2014 revenues of nearly $16 billion and more than 60,000 employees worldwide, making it the largest HVAC manufacturer in the world. Daikin is engaged primarily in the development, manufacture, sales and aftermarket support of heating, ventilation, air conditioning and refrigeration (HVACR) equipment, refrigerants and other chemicals, as well as oil hydraulic products. Daikin was named one of the world's most innovative companies by Forbes magazine. For more information, visit www.daikin.com.