Daikin Applied launches Navigator water-cooled screw chiller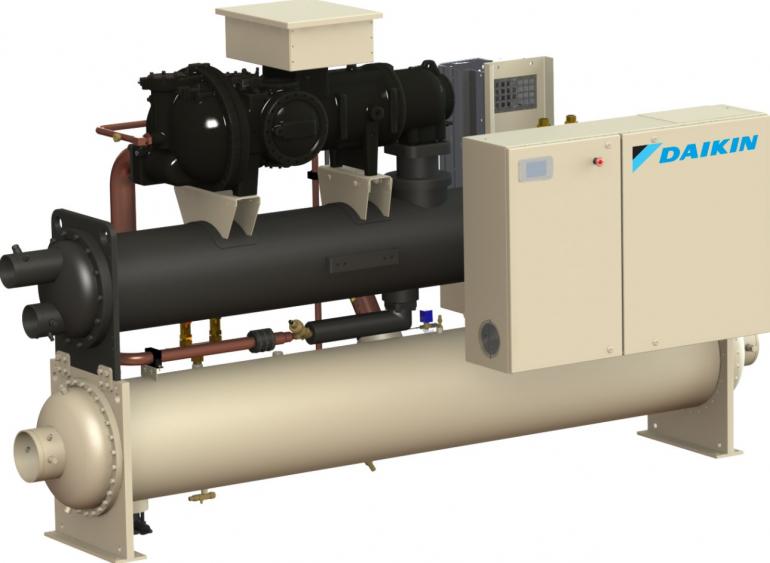 MINNEAPOLIS – April 27, 2017 –– Daikin Applied has launched Navigator™, a screw compressor water-cooled chiller engineered with award-winning Variable Volume Ratio (VVR) technology.
Built on Daikin Applied innovation—VVR technology and water-cooled technology—Navigator gives you the power of efficiencies that meet or exceed ASHRAE 90.1-2016 levels and IPLV as low as 0.36. Navigator's single VFD-driven screw compressor brings new levels of performance to applications that aren't suited to traditional centrifugal chillers or magnetic bearing solutions.
No two buildings are alike and no two days serve up the same climate conditions, so engineers need technology with the flexibility and intelligence to help them design an HVAC solution optimized for any day or hour. Daikin's portfolio addresses that customer need whether the system design calls for a water-cooled (Navigator) or air-cooled (Pathfinder®) chiller.
Recognized with Frost and Sullivan's Manufacturing Leadership Award, VVR compression technology senses the precise amount of lift needed and adjusts the compression ratio on the fly to deliver optimal efficiency, regardless of ambient temperature or time of day. With VVR technology, customers don't pay for over-compression, and get exactly the lift needed.
For more information about Daikin chillers, contact your local Daikin Applied sales office or visit www.DaikinApplied.com to find an office near you.
Daikin Applied
Daikin Applied, a member of Daikin Industries, Ltd, designs and manufactures technologically advanced commercial HVAC systems for customers around the world. Customers turn to Daikin with confidence that they will experience outstanding performance, reliability and energy efficiency. Daikin Applied equipment, solutions and services are sold through a global network of dedicated sales, service, and parts offices. For more information or the name of your local Daikin Applied representative, call 800-432-1342 or visit, www.DaikinApplied.com.
About Daikin Industries Ltd.
Daikin Industries, Ltd. is a Forbes 1000 global company with 2014 revenues of nearly $16 billion and more than 60,000 employees worldwide, making it the largest HVAC manufacturer in the world. Daikin is engaged primarily in the development, manufacture, sales and aftermarket support of heating, ventilation, air conditioning and refrigeration (HVACR) equipment, refrigerants and other chemicals, as well as oil hydraulic products. Daikin was named one of the world's most innovative companies by Forbes magazine. For more information, visit www.daikin.com.