Daikin Applied Launches Rebel Chilled Water Air Handler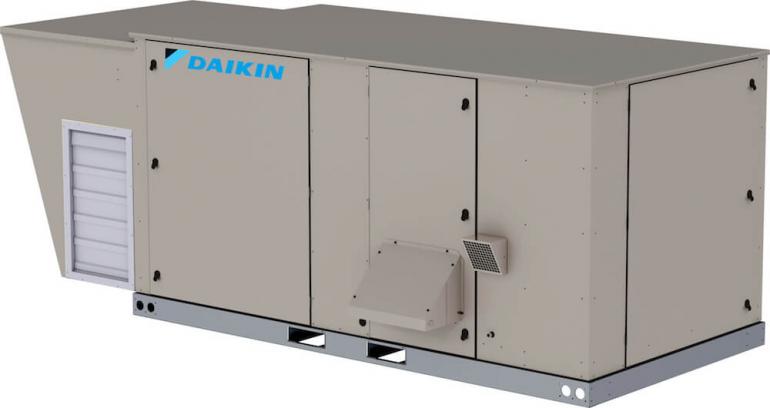 MINNEAPOLIS – June 28, 2017 –– Building on the innovative and award-winning Rebel® heating and cooling rooftop platform, comes Daikin Applied's Rebel rooftop air handler.
Rebel offers engineers and building owners a customizable chilled water solution featuring segment-leading technologies that provide for a complete single-sourced system. Combined with either Pathfinder® or Trailblazer® air-cooled chillers, users capitalize on the 22+ IPLV performance of an air-cooled chiller for a complete system solution to match your application needs.

Energy efficiency is at the core of the Rebel's design, gaining up to 15% energy savings from Rebel's standard direct drive airfoil supply and ECM fans. The factory-installed energy recovery wheel captures and recycles lost energy, increasing the HVAC system efficiency and reducing the mechanical cooling capacity by as much as 30% to help exceed AHRI and ASHRAE 90.1-2016 standards.

In addition to the advanced, embedded technology found in the Rebel air handler, its smaller footprint improves building aesthetics, as well, with improved sightlines to meet architectural and municipality mandates.


Daikin Applied

Daikin Applied, a member of Daikin Industries, Ltd, designs and manufactures technologically advanced commercial HVAC systems for customers around the world. Customers turn to Daikin with confidence that they will experience outstanding performance, reliability and energy efficiency. Daikin Applied equipment, solutions and services are sold through a global network of dedicated sales, service, and parts offices. For more information or the name of your local Daikin Applied representative, call 800-432-1342 or visit, www.DaikinApplied.com.


About Daikin Industries Ltd.

Daikin Industries, Ltd. is a Forbes 1000 global company with 2014 revenues of nearly $16 billion and more than 60,000 employees worldwide, making it the largest HVAC manufacturer in the world. Daikin is engaged primarily in the development, manufacture, sales and aftermarket support of heating, ventilation, air conditioning and refrigeration (HVACR) equipment, refrigerants and other chemicals, as well as oil hydraulic products. Daikin was named one of the world's most innovative companies by Forbes magazine. For more information, visit www.daikin.com.