Daikin AURORA™ - Designed for comfort!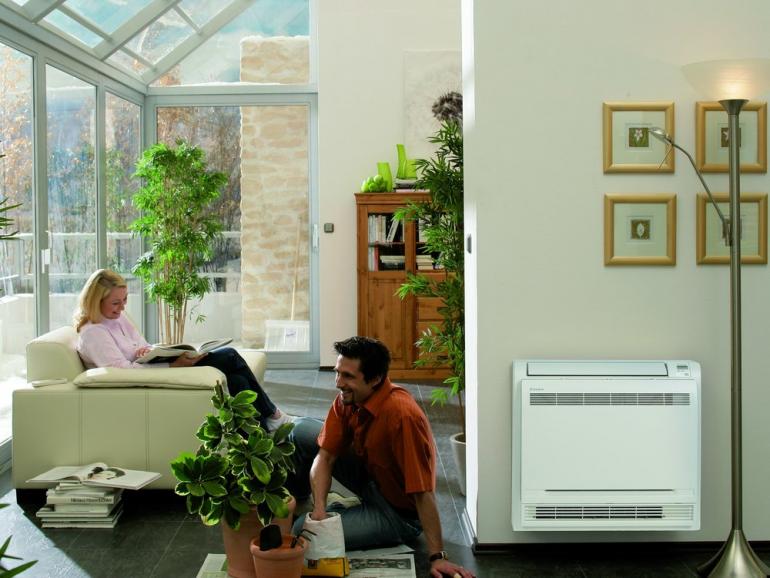 Our expertise makes life easier for you, allowing you to control your system via a smartphone app or a user-friendly remote control. A better understanding of how people inhabit their living spaces has led to products designed to create indoor environments that help use energy resources more effectively. Heat pumps extract or reject heat from the outside air, even in cold weather. They use an electrically powered compressor and are extremely effective at heating and cooling an apartment or a house. Daikin heat pumps are quiet and discreet and use state-of-the-art technology. With a Daikin heat pump, a large portion of the energy used to heat or cool your home comes from the outside air, a free and infinitely renewable resource.

Daikin AURORA heat pump for extreme weather conditions
Up to 100% heating capacity at 5°F (-15°C) and operate efficiently as low as -13°F ambient temperature.
Daikin Comfort App
Easily control your system from anywhere in the world or the comfort of your living room. With the new Daikin Comfort Control App, you are always in control. You can use your tablet or smartphone to access your Daikin system via the internet.
Comfort Mode
Draft-free operation improves comfort. When cooling, the flap positions itself horizontally to prevent cold airflow from being blown directly onto the body. When heating, the flap turns vertically downwards to drive warm air to the bottom of the room.
Powerful Operation Mode
Pushing the POWERFUL button on the remote control gives you a boost in cooling or heating power for a 20-minute period, even if the unit is already operating at high capacity.
Single Zone Daikin AURORA™
Heat pumps
All Daikin ductless heat pumps consist of an indoor unit, which is either wall-mounted, floor-mounted or concealed, paired with a quiet and compact outdoor unit.
As you likely gathered from its name, a mini-split/ductless system is a split system, which means it has components that are located inside and outside the home. And in the case of heat pumps, they provide year-round comfort by mechanically cooling or heating the air from inside your home while transferring the heat absorbed or lost to the outside via a sealed refrigerant circuit.
Daikin's single-room heat pumps are energy efficient and ideal for heating a small space. They are small and unobtrusive in your home. Imagine your small office or studio being toasty warm without the fuss of a furnace or the hassle of a ducted system at all. With an opening just three inches or smaller in diameter, a ductless mini-split heat pump is easy to install and maintain.
Multi-Zone Daikin AURORA™ (2 and 3 zones)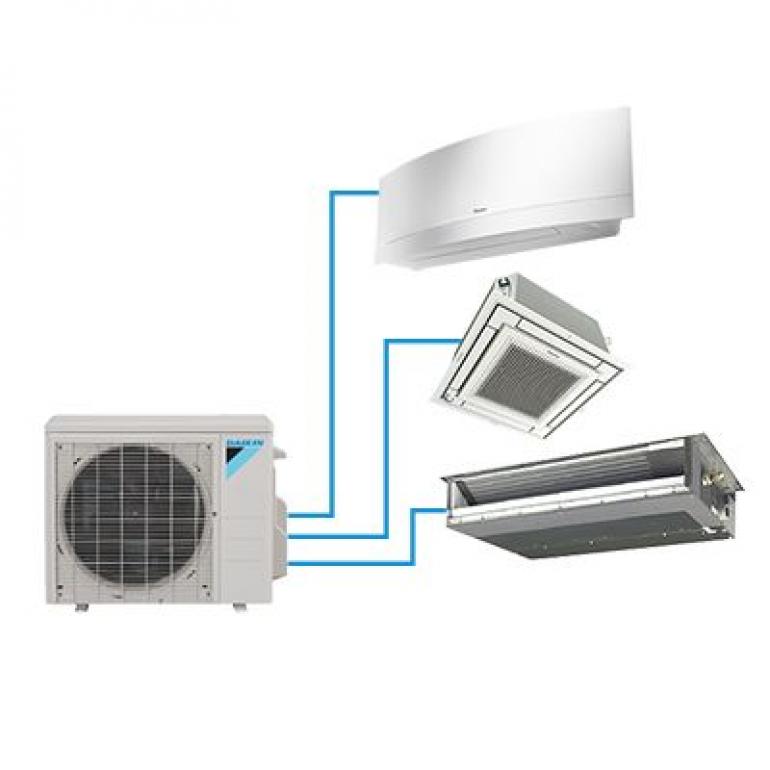 Multi-Zone Outdoor Unit
Daikin's Multi Zone Systems are ideal for multi-room applications desiring individual room comfort in a space-saving design. With the ability to connect two or three indoor units to a single outdoor unit, over 1,000 combinations are possible with the choice of wall mount units, slim duct units, floor mount, ceiling cassette units or a combination. Systems offer energy efficiency levels up to 17.9 SEER and 12.5 HSPF for enhanced home comfort and energy savings.Daikin Aurora Multi-Zone systems offer enhanced capacity in cold ambient conditions. Suitable for both new build and renovation projects, Daikin Multi-Zone Systems are the smart, reliable solution for your home.z
World-renowned Daikin Inverter -Variable Speed- compressor technology
Designed to deliver enhanced capacity in cold ambient conditions
Enhanced Capacity- Up to 100% Heating Capacity at 5°F (-15°C) and operate efficiently as low as -13°F ambient temperature
Up to 100% Cooling Capacity at 104°F (40°C)
Energy Efficient - Up to 17.9 SEER / 12.5 HSPF / 12.7 EER for ultra-efficient cooling and heating operation and reduced operating costs compared to conventional lower-efficiency systems
Multiple indoor units design and style to blend within the home décor including the new EMURA wall mounted units and VISTA ceiling cassette units
Quick and easy installation
Precision temperature control for individual rooms
Space-saving
Quiet operation