Danfoss Celebrates One Million ELIMINATOR® 1.5 CI Filter Driers Sold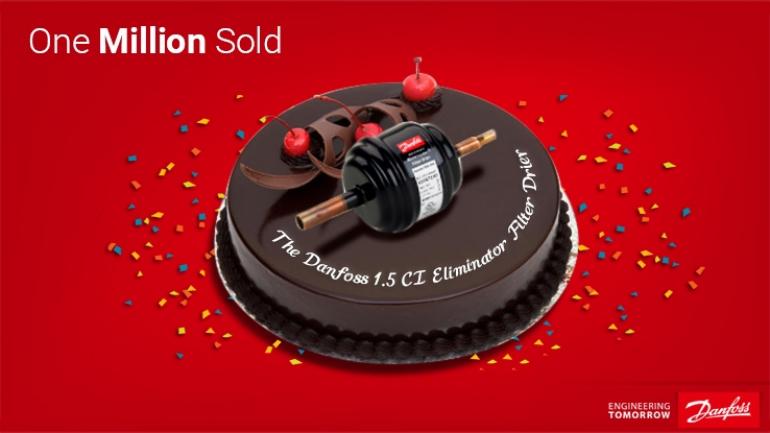 Selling one million 1.5 CI Filter Driers is an important milestone, signaling that our customers are getting tremendous value from the product and are using it in all kinds of applications.
It's a big day for all of us here at Danfoss as we celebrate the sale of one million 1.5 Cubic Inch Filter Driers. We produce a lot of products that cover a wide range of applications, and it's always exciting for us to cross this milestone in such a short period of time. This particular model's new design, while more compact, delivers the same reliable performance that our customers have come to expect from all Danfoss filter driers. The 1.5 Cubic Inch Filter Drier boasts a high adsorption rate, improves the reliability of your refrigeration system, and keeps the entire system running clean.

Danfoss began producing filter driers in 1938. Our range has steadily grown over the years as demand for a wider range of models that fit new application types increased. In fact, Danfoss now produces 12 different versions of our filter drier for customers to choose from and we've sold 37 million of them over the years. With the 1.5 Cubic Inch Filter Drier, we focused on streamlining the original filter drier design to fit a much smaller footprint, so that it could be matched to even more applications, such as food service and light commercial applications. The smaller size also helps minimize the refrigerant charge to allow customers to meet the 150gr limitation for flammable refrigerants.

The 1.5 CI filter drier is particularly well-suited to self-contained units, such as the glass door merchandisers found in food service, but it can also be a good match for a number of other systems including commercial refrigerators and freezers, ice cream cabinets, ice making machines, milk cooling tanks, and vending machines. In all these systems, the 1.5 CI filter drier can be combined with other Danfoss components such as solenoid valves, electronic controllers, pressure sensors, and heat exchangers to enhance each system's performance and reliability.

The 1.5 CI Filter Drier works with multiple refrigerants, including natural refrigerants such as subcritical CO2 and hydrocarbons, so you can future-proof your systems for the coming refrigerant transition and retrofit older systems with ease.

Christopher Nitz, Segment Marketing Manager, Danfoss Commercial Refrigeration had this to say about crossing the milestone:

"We're thrilled that we've reached this milestone. Crossing the one million mark signals to us that our customers are happy and getting tremendous value out of using our 1.5 Cubic Inch Filter Driers. Everyone on our team has worked so hard to make it happen and it's great that we're able to celebrate this accomplishment. But we're also focused on reaching the next milestone."