Danfoss recognizes Delfield with eighth annual EnVisioneer of the Year award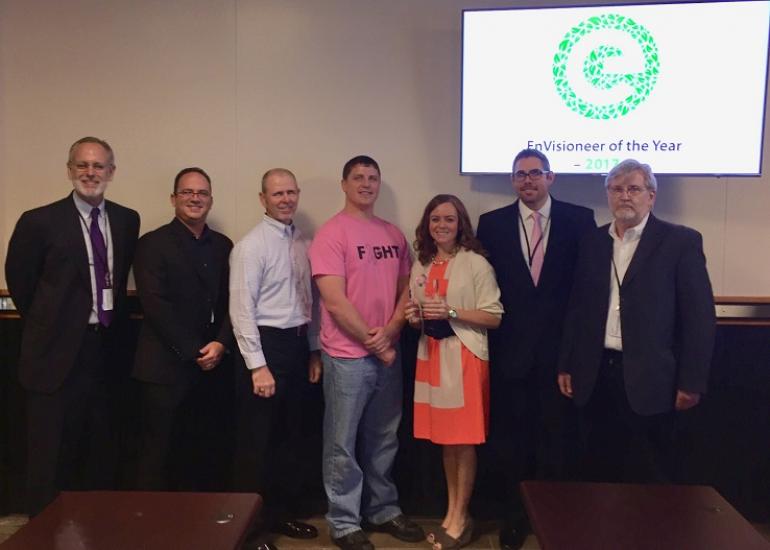 Delfield utilized Danfoss thermostatic expansion valves and refrigeration control technologies to re-engineer its equipment to meet low-GWP refrigerant and energy-efficiency targets
Danfoss has named Welbilt's brand Delfield, one of the largest custom stainless steel refrigeration equipment manufacturers in the world, the latest winner of its EnVisioneer of the Year award for its use of Danfoss controls to convert equipment to low-GWP, natural refrigerant while also significantly improving energy efficiency. Delfield offers a complete line-up of high-performance, high-quality refrigeration, fabrication, and serving systems for the foodservice industry. Its products ensure food safety and operational efficiency.

Launched in 2010, the EnVisioneer of the Year award competition recognizes North American end users, municipalities, building owners, or original equipment manufacturers that have introduced a new product, opened a new facility, or invested in a building or system upgrade using Danfoss products or solutions to realize significant energy or environmental savings.

Delfield is utilizing Danfoss thermostatic expansion valves and electronic controls to optimize its foodservice refrigeration equipment. By integrating Danfoss technologies that enable more precise control and are approved for use with flammable refrigerants, Delfield recently converted its portfolio from R-404A, an HFC refrigerant, to R-290, a natural hydrocarbon — reducing global warming potential by more than 99 percent, from 3,943 to 3. It also was able to lower refrigerant charge by 40-80 percent to reduce equipment footprint, and cut energy consumption by as much as 50 percent.

"Danfoss applauds Delfield for its commitment to advancing the industry through environmentally-friendly, energy-efficient technologies," said John Galyen, president, Danfoss North America. "This is a great example of how innovative engineering can put ambitious energy-efficiency and refrigerant targets squarely in reach — without compromising performance or reliability. We are pleased to name Delfield as our eighth EnVisioneer of the Year."

The EnVisioneer of the Year award was presented on October 18 to Delfield's Darrel Walker, vice president of engineering; Jeremy Huhn, staff refrigeration engineer; and Marcy Mathews, director, product management, by Danfoss Sales Director John Carmack.

"We are truly honoured to receive the EnVisioneer of the Year award from Danfoss," said Josef Matosevic, chief operating officer of Welbilt. "This recognition is a testament to our commitment to deliver high-quality commercial foodservice equipment while simultaneously helping improve energy efficiency and reduce greenhouse gas emissions."

Entrants to the EnVisioneer of the Year competition are reviewed and evaluated by an independent third-party judging panel.
Pictured above left to right: John Carmack, sales director, Danfoss; Eduardo Cruz, senior product manager, Danfoss; Darrel Walker, vice president of engineering, Delfield; Jeremy Huhn, staff refrigeration engineer, Delfield; Marcy Mathews, director, product management, Delfield; Will Staley, key account manager, Danfoss; and Svend Bennedsen, senior application engineer, Danfoss.