Eurovent Middle East to host high-quality expert seminars for local engineering and MEP consultants in the UAE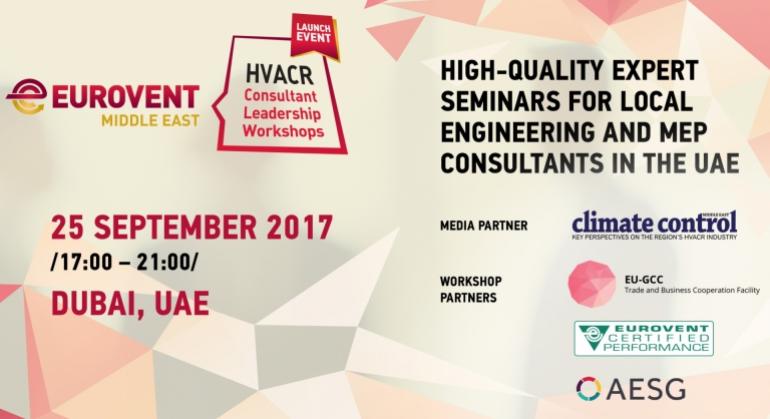 Dubai, 27 August 2017. Eurovent Middle East has announced its new, free-of-charge seminar series 'HVACR Consultant Leadership Workshops'. The official launch event is going to take place at LeMeridien Dubai Hotel & Conference Center on 25 September 2017. It is tailor-made for local engineering and MEP consultants in the UAE with the core aim of informing them about standards and industry recommendations in the field of ventilation, air conditioning, and refrigeration.
The non-commercial, free-of-charge seminars are spread across multiple workshops and supported by the EU-GCC Trade and Business Cooperation Facility, AESG, and Climate Control Middle East. During the Launch Event, high-ranking speakers are going to focus on core issues such as Life Cycle Costs (LCC), Indoor Air Quality (IAQ), energy efficiency and refrigerants. An in-depth introduction on certification and labelling will be given, outlining how to make best use of certified products while understanding differences between various certification marks and labels. Consultants are also invited to participate in a panel discussion, which focuses on their concerns and interests.
Brian Suggitt, Chairman of Eurovent Middle East, states: 'As a consultant, you find yourself at the interface between project developers, contractors and manufacturers. Price pressure can often lower one's sights on product quality and life cycle costs. Our new seminar series aims to provide local engineering and MEP consultants in the UAE with hands-on knowledge and techniques on how to rightly handle today's and future requirements in the HVACR sector.'
Consultants can now register free-of-charge for 'HVACR Consultant Leadership Workshops' Launch Event at www.eurovent.me. All registered participants receive an official attendance certificate from Eurovent Middle East for their credentials.