Executive Director meets Indian Ministers in New Delhi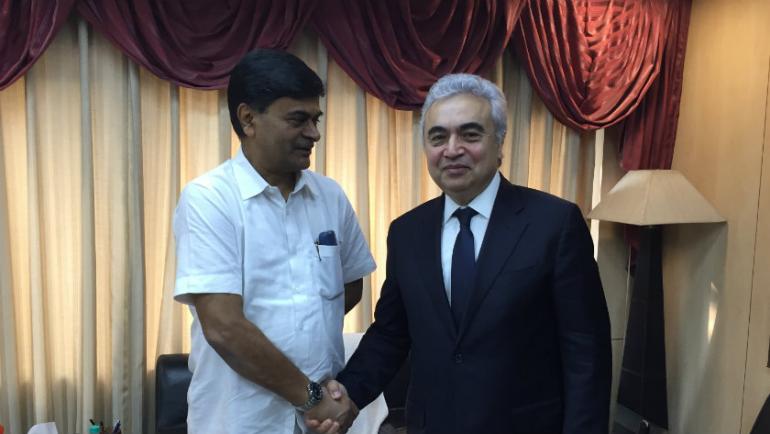 NEW DELHI – Dr Fatih Birol, the Executive Director of the International Energy Agency, met with Indian Ministers yesterday to discuss expanding cooperation on a variety of energy issues after India joined the IEA as an Association member in March this year.
During his visit, Dr Birol met with Mr R K Singh, Minister for Power and New and Renewable Energy; Mr Piyush Goyal, Minister for Railways and Coal; Mr Dharmendra Pradhan, Minister for Petroleum and Natural Gas; and Dr Rajiv Kumar, Vice Chairman of NITI Aayog.
India, the world's third-largest energy consumer, has made significant progress in areas such as energy market reform, energy access, energy efficiency and renewable energy deployment. The new institutional ties with India reflect the IEA's strong commitment to expanding its long-standing work with India, including by supporting the International Solar Alliance established by India to accelerate the global deployment of solar energy.
Dr Birol expressed the IEA's strong support for the government's determined efforts to reform the energy sector. By providing energy access to over 500 million people since 2000, India has become one of the greatest-ever success stories in electrification. India aims to achieve an ambitious renewable target of 175 GW by 2022, and is making significant progress in that area.
"India's decision to join the IEA family was a tipping point in our global outreach policy as well as a real milestone in our modernisation agenda to open our doors to major emerging economies," said Dr Birol. "The IEA is eager to work closely with India, which has become a major driving force in global energy affairs."
Since India joined the IEA as an Association member, India and the IEA have been working to develop a bilateral work programme. The programme covers cooperation on a wide range of activities, including energy security, system integration of renewables, energy efficiency, and data and statistics. These topics are critical policy issues for India and align well with the IEA's expertise.