FLIR Announces New TRMS Digital Multimeter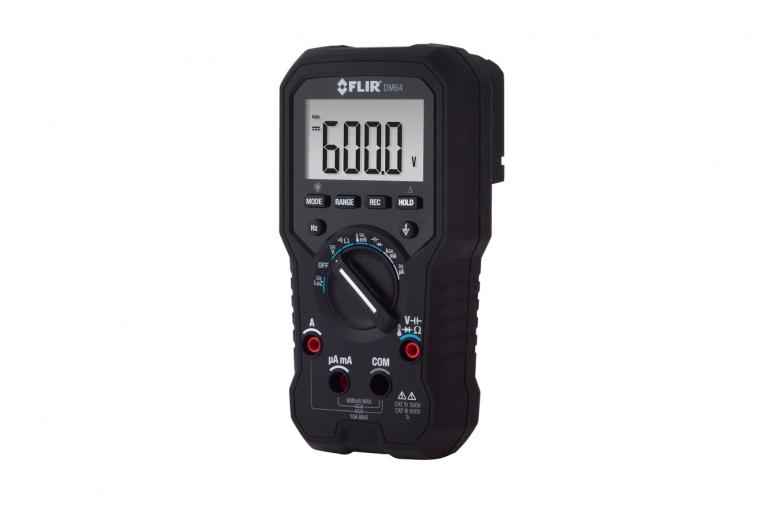 FLIR
WILSONVILLE, Ore. – FLIR Systems (NASDAQ: FLIR) announced today the release of its new DM64 HVAC True Root Mean Square (TRMS) Digital Multimeter with Temperature. Designed for professionals who install, inspect, and maintain HVAC/R systems, the DM64 helps you diagnose complex electrical systems, test flame sensors, and measure temperatures—all with one, affordable tool.
The feature-rich DM64 has the user-friendly design and durability HVAC professionals need, making it ideal for field use. It offers both non-contact and probe voltage detection, accurately measures high- and low-voltage, and measures temperatures up to 752 degrees Fahrenheit (400 degrees Celsius) with the included Type-K thermocouple. This multimeter has several measurement modes, including LoZ (low impedance), Relative Zero, and Variable-Frequency Drive (low-pass filter). A significant advantage of the FLIR DM64 is it's easy to learn, so new users can get right to work. The meter has an intuitive interface, with an on-screen menu that's simple to navigate. The ergonomic design, display backlight, and flashing indicators help you work longer, even in noisy or dark conditions. Plus, this drop-tested meter holds an IP40 ingress protection rating and safety ratings to CAT IV-300 V and CAT-III- 600 V, for safe, continued use in rugged environments. The FLIR DM64 carries a limited lifetime warranty and is now available for $149.99.
For more information visit www.flir.com/professionalDMMs.

###

About FLIR Systems
Founded in 1978 and headquartered in Wilsonville, Oregon, FLIR Systems is a world-leading maker of sensor systems that enhance perception and heighten awareness, helping to save lives, improve productivity, and protect the environment. Through its nearly 3,500 employees, FLIR's vision is to be "The World's Sixth Sense" by leveraging thermal imaging and adjacent technologies to provide innovative, intelligent solutions for security and surveillance, environmental and condition monitoring, outdoor recreation, machine vision, navigation, and advanced threat detection. For more information, please visit www.flir.com and follow @flir.