Hamdan bin Zayed receives delegation from Union Properties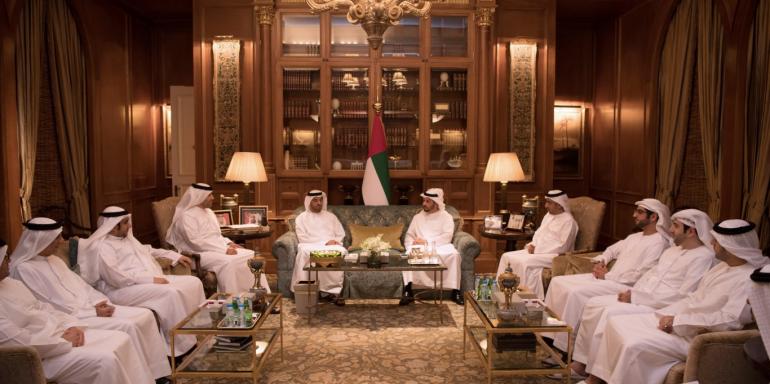 H.H. Sheikh Hamdan bin Zayed Al Nahyan, Ruler's Representative in Al Dhafra Region, has received, in Qasr Al Nakheel, a delegation from the senior management of Union Properties, led by Naser Butti Omair bin Yousef, Chairman of Union Properties, with the attendance of Sheikh Sultan bin Hamdan bin Zayed Al Nahyan, Director of the East Asia and Pacific Department at the Ministry of Foreign Affairs and International Cooperation.
During the meeting, Naser bin Yousef presented his company's projects to Sheikh Hamdan, including plans for a new residential project, the "Al Dhafra Beach," which Union Properties is planning to launch in Al Dhafra Region, as its first project in Abu Dhabi.
Sheikh Hamdan stated that the project is an exemplary investment in public housing, which will provide available services required by the emirate's residents.
Sheikh Hamdan also highlighted the desire of the wise leadership to provide the means of a dignified living to the UAE's people while answering the requirements of each citizen regarding housing and land, as well as maintaining residential districts developed by government authorities or the private sector, to achieve effective communication between members of the community and provide them with social and housing welfare.
Naser bin Yousef expressed his sincere appreciation to Sheikh Hamdan for his keen monitoring of all the current projects in Al Dhafra Region, and his directives to launch various planned projects.
He also confirmed the desire of Union Properties to genuinely realise the directives of the country's leadership, to offer the best services to the nation's people.
The Al Dhafra Beach, which overlooks the Arabian Gulf, is a multi-use residential project with a total area of around three million square metres, which includes a luxury 5-star beach resort surrounded by villas and residential buildings, as well as health, education and entertainment facilities, and a canal with water from the Arabian Gulf running through it.
The project also includes open spaces allocated for parks and other green spaces and its own shopping centre. Through the project, Union Properties aims to create a unique residential and tourism destination in Abu Dhabi, which will attract visitors from around the country and the region.