Honeywell Donates $400,000 Of Personal Protective Equipment To Aid In Mexico's Earthquake Rescue And Relief Efforts
Honeywell (NYSE: HON) announced today that it has donated $400,000 in personal protective equipment (PPE) to the Mexico Secretaría de la Defensa Nacional (SEDENA) to support rescue and relief efforts following this week's devastating earthquake in Mexico.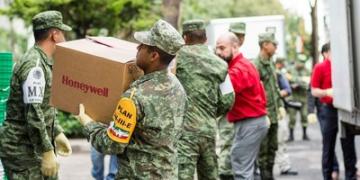 Honeywell, a global leader in safety products, has donated nearly 50,000 pieces of personal protective equipment to support volunteer emergency personnel digging through the rubble of city buildings toppled by the 7.1-magnitude earthquake. Organized by Honeywell Hometown Solutions, the company's corporate citizenship initiative, the donations from Honeywell Safety and Productivity Solutions include respiratory and hearing protection, protective eye, face and footwear, fall protection, hard hats and safety gloves.


"We appreciate the immediate support from Honeywell," said Brigadier General José Luis Chiñas Silva of SEDENA. "The protective gear is crucial in our efforts to find and rescue citizens as quickly as possible. Every minute counts."


"Our thoughts are with the people of Mexico City and the states of Mexico, Morelos and Puebla who are suffering through this overwhelming and shocking disaster," said Craig Breese, Honeywell President Latin America region. "We are thankful that we can help SEDENA and the volunteer teams as they tackle the daunting task of helping those in need."


Honeywell has 17,500 employees in manufacturing plants, engineering centers and offices across Mexico, including nearly 900 employees in Mexico City.


The Honeywell products will be used by SEDENA and specialized groups known as brigade "topos," a professional non-profit Mexican rescue team. Their specialty is searching for victims under the debris of collapsed buildings and providing first aid. This organization began when a group of youths decided to help with rescue efforts in the aftermath of the 1985 Mexico City earthquake.


"We are proud to provide equipment that will be put to immediate use by military personnel to support their search and rescue missions," said John Waldron, president of Honeywell Safety and Productivity Solutions. "It's important that rescue workers have the gear they need to do their jobs as safely as possible."


In addition to the safety product donation, Honeywell employees are donating to the Honeywell Humanitarian Relief Fund (HHRF) to support disaster relief, and the company is matching employee contributions to the fund dollar for dollar.

During the past decade, Honeywell has donated more than $12.5 million to support disaster relief around the world, and more than 1,600 employees have received emergency assistance. Through the relief fund, the company and thousands of Honeywell employees have responded with donations and support for long-term rebuilding efforts for recent tragedies such as Hurricanes Harvey, Irma and Maria, and floods in Romania.


About Honeywell Hometown Solutions
Honeywell Hometown Solutions, the company's corporate citizenship initiative, focuses on five areas of vital importance: Science & Math Education, Family Safety & Security, Housing & Shelter, Habitat & Conservation, and Humanitarian Relief. Together with leading public and non-profit institutions, Honeywell has developed powerful programs to address these needs in the communities it serves. For more information, please visit http://citizenship.honeywell.com/.