Lukashenko voices readiness to support new joint projects with China's Midea Group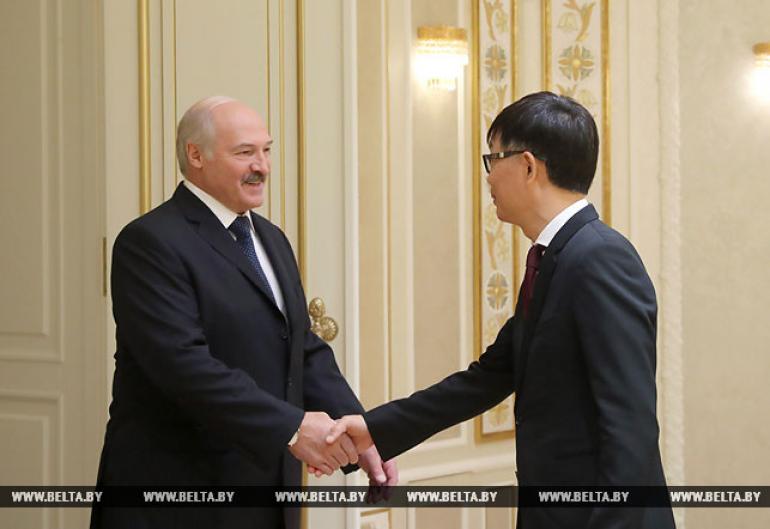 Belarus President Alexander Lukashenko voiced readiness to support new projects with China's Midea Group as he met with Chairman and President of Midea Group Fang Hongbo on 27 November, BelTA has learned.
"You are always welcome here. We have always paid great attention to the cooperation between Belarus and China, and your company is a testimony of this. It is great that the company intends to expand its presence in our country. We are ready to support any of your projects," said the head of state.


Alexander Lukashenko noted that Midea Group came to Belarus with direct investments ten years ago. Together with Belarus' Horizont Holding Company it launched the production of microwave ovens and water heaters. "You have invested your funds and technologies. You have promoted exports, created jobs. We welcome such investors. We are waiting for them, and we are ready to continue working with them and, first of all, with the ones who decided to invest their money in the economy of Belarus," the Belarusian leader said.


"You can be sure that we will continue to provide all possible support and assistance to the development of partnership relations," Alexander Lukashenko noted. "Our level of cooperation is one of the highest in the world. We appreciate this and the companies as yours are the backbone of such cooperation," said Alexander Lukashenko.


He also emphasized the friendly nature of relations with Chinese President Xi Jinping. "We have created the best climate for your investments. I would like to know your opinion about the working conditions in our country. I am ready to hear out any suggestions on further mutual cooperation and your promising projects in Belarus. You will always find full understanding and support here," the President said.
For his part, Chairman and President of Midea Group Fang Hongbo said he was satisfied with the results of the work in Belarus for the past ten years and expressed gratitude to the government for the support. "We got good results and laid a good foundation for expanding our presence in Belarus. This shows that the cooperation between China and Belarus is expanding, including within the framework of the Belt and Road initiative. We also intend to position Belarus as a hub which will cover all the CIS countries, to develop the production of microwave ovens and water heaters. We plan to manufacture household appliances such as refrigerators, washing machines," Fang Hongbo said.


Midea Group Corporation is one of the largest manufacturers and exporters of home appliances in China and in the world. Currently, it operates over 200 subsidiaries, more than 60 overseas branches and 12 strategic business units. The corporation has production sites in China, Italy, Brazil, Argentina, Egypt, India, Japan, Thailand and Belarus.
In 2007-2009 Midea Group together with Horizont Holding Company set up a joint Belarusian-Chinese venture Midea-Horizont in the Free Economic Zone Minsk. The joint venture covers the full production cycle with a high degree of localization, executes production orders for such brands as Bosch, Panasonic, Sharp, Electrolux, Oursson.
Under the memorandum of expanding strategic partnerships and setting up new manufactures between Horizont Holding Company and Midea Group signed during the visit of China's President Xi Jinping to Belarus, the joint venture started producing coolers and water heaters. The new production was launched in March 2016.