Mitsubishi Electric Cooling & Heating Introduces kumo station™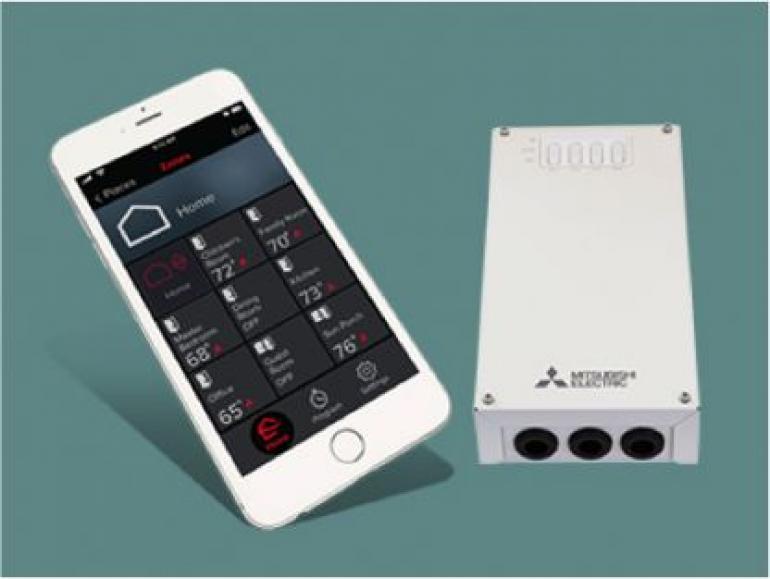 SUWANEE, Georgia, January 22, 2018 – Mitsubishi Electric US, Inc.'s Cooling & Heating Division (Mitsubishi Electric), a leading manufacturer of Zoned Comfort Solutions™ and Variable Refrigerant Flow (VRF) cooling and heating systems, announces an addition to the kumo cloud® platform: the kumo station™ equipment controller.
Kumo station expands the capabilities of kumo cloud to allow homeowners and building managers to manage cooling, heating, humidification and ventilation based upon ambient conditions and personal comfort preferences. The four channel equipment controller, with outdoor air temperature monitoring, integrates with third-party equipment including two-stage auxiliary heaters, humidifiers, dehumidifiers and ventilation equipment.
A patent-pending algorithm enables the kumo cloud system to determine changeover based on room temperatures and set points for each indoor unit. This distributed control makes homes smarter, and puts homeowners and building managers in control, even when they are away.
The kumo cloud works according to zone prioritization set by the homeowner or building manager to reflect lifestyle and comfort requirements for each room. kumo cloud's decisions are informed by the amount of heating required for each room according to its size and the priority given to the room. For example, when kumo cloud is deciding when changeover should occur, bedrooms and kitchens could be given more priority than basements.
The new kumo station extends this intelligent management of home environments to third-party equipment. With kumo station, smart controllers distributed throughout the home draw information from wireless temperature and humidity sensors to make collective decisions about when it is best to use either the heat pump, changeover to auxiliary heat, or use heat pumps with auxiliary heat.
"When it is too cold to use your heat pump, the kumo station will know," says Charles Miltiades, director, controls products & solutions for Mitsubishi Electric US, Inc.'s Cooling & Heating Division. "When your humidity control and ventilation equipment need to be adjusted to satisfy your comfort, kumo station will know. It's the ultimate home cooling and heating customization tool and really rounds out the personalization options of our kumo cloud platform."
When kumo station is connected to kumo cloud, users receive unprecedented control and visibility into the home through smart devices. Within the home the app utilizes Bluetooth communication that is not dependent upon internet access, meaning users are still in control even if internet service is disrupted.
To learn more about kumo station and other smart home technologies from Mitsubishi Electric visit, www.mitsubishicomfort.com/kumocloud.