RHEEM ADDS LOW-AMP UNIT AND COMMERCIAL OPTIONS TO AWARD-WINNING PRESTIGE SERIES HYBRID ELECTRIC WATER HEATER LINE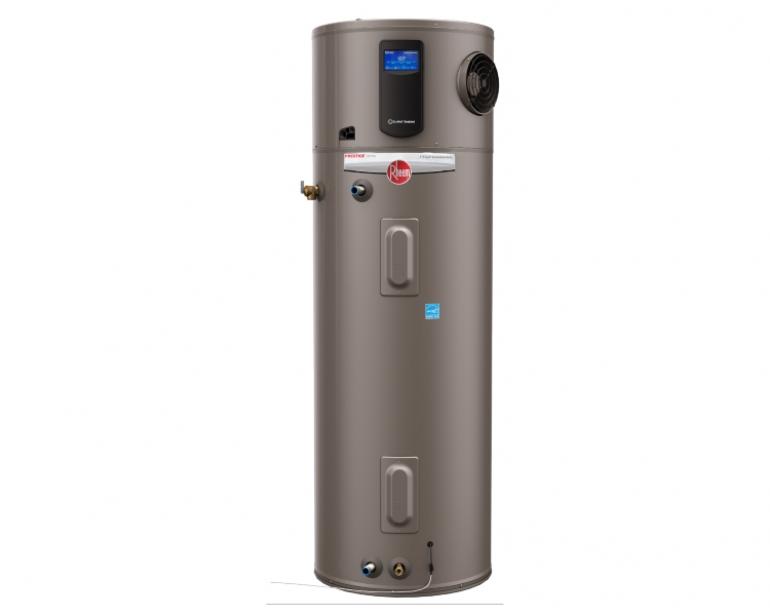 Rheem
Fourth Generation of The Smartest, Most Efficient Hybrid Electric Water Heater on the Market is Now Available for More Residential And Commercial Applications
ATLANTA — Dec 6, 2017 — Rheem® is introducing new applications and increased energy-efficiency options to its award-winning Prestige® Series Hybrid Electric Water Heater line-up. New for 2018, the fourth-generation Prestige Series Hybrid Electric Water Heater is now available for light-duty commercial applications. In addition, Rheem is the first to offer a 15-amp Prestige Series Hybrid Electric Water Heater for residential use.
15-amp Prestige Series Hybrid Electric Water Heater
The smartest, quietest, and most efficient Hybrid water heater on the market, the Prestige Series Hybrid Electric reduces water heater energy use by up to 73 percent and can provide $4,750 in energy cost savings over 10 years. Built-in Wi-Fi and compatible with many smart-home systems, including Nest™, the units can be controlled remotely and have the ability to send maintenance and service alerts to your mobile device when connected to the free EcoNet® app.
Primary features of the Rheem 15-amp Prestige Series Hybrid Electric Water Heater are:
1. Well-suited for single- and multi-family homes in warm weather climates
2. Lower amperage units require a breaker size of only 15 amps
3. Great option for replacement installations in homes that do not have ample capacity on the existing breaker
Commercial Hybrid Electric
Rheem is offering the energy and cost savings benefits of its hybrid water heating solutions for commercial use. Available in 50-, 65-, and 80-gallon tanks, Rheem's new Commercial Hybrid Electric Water Heaters are ideal for:
1. fast-food restaurants,
2. office buildings,
3. light-duty commercial applications that need moderate amounts of hot water and want the efficiency and performance characteristics of a hybrid.
Easy to install, the duct-ready models do not require an additional duct adapter and are an easy fit in smaller spaces. All Commercial Hybrid Electric Water Heaters feature the Rheem EcoNet built-in leak detection system, which sends automatic alerts if water is detected outside the unit.
"Our Prestige Series Hybrid Electric line has been a game-changer since its introduction to the market a few years ago," said Ankur Maheshwari, senior product manager – water heating, Rheem. "These extensions give our contractor partners the ability to sell a best-in-class offering to a variety of new residential and commercial customers. It's meaningful innovation that will save energy and money for both homeowners, business owners and our partners."


Founded in 1925, Rheem is the only manufacturer in the world that produces heating, cooling, water heating, pool/spa heating and commercial refrigeration products. Rheem is headquartered in Atlanta, and it has an international presence in 14 countries. The company's premium brands include Rheem, Raypak, Ruud, Eemax, Richmond and Splendid, as well as commercial refrigeration brands Russell, Witt, ColdZone and Kramer, which are part of the company's Heat Transfer Products Group (HTPG) division. To learn more, visit www.Rheem.com.