RHEEM LAUNCHES RENAISSANCE COMMERCIAL HVAC LINE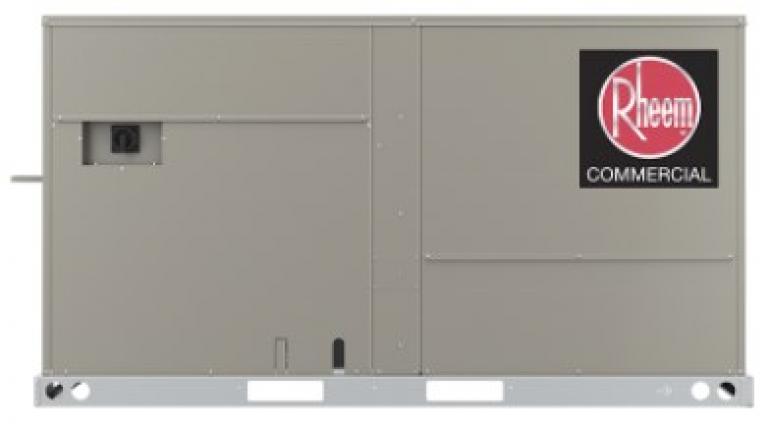 rheem.com
Rheem's New Line of Rooftop Units Meet and Exceed Department of Energy Minimum Energy Standards
Rheem® has introduced the 7.5 – 12.5 Ton Commercial RenaissanceTM HVAC Line, a completely new platform of package air conditioners and gas electric units. Renaissance is equipped with innovative technologies that not only meet the new 2018 Department of Energy (DOE) IEER requirements to deliver higher efficiencies and lower operating costs, but are also compliant with the enhanced 2023 regulations.*
The Rheem Renaissance Line is 30 percent more energy efficient than the current baseline technology available in most commercial HVAC units. These energy savings translate to thousands of dollars saved over the life of the equipment. Performance features affecting efficiency, including Rheem's exclusive PlusOne® HumidiDry™technology, meet ASHRAE 90.1-2007**, ASHRAE 90.1-2013, ASHRAE 62.1 and California Title 24 regulations. In addition to an efficiency upgrade, the line has been redesigned to match the industry's commonly used footprint. This means significantly faster and more cost effective install and startup time, protecting comfort and environment of the business.
Robust design features such as a solid single-piece top and durable panels make installing and servicing the units quicker and easier. Factory installed ClearControlTM Direct Digital Control (DDC) and sensors can connect to LonWorksTM, BACnet® and Modbus® BAS/EMS systems for remote monitoring and precise control.
"This is the first major renovation of our commercial platform in many years and was done based on extensive feedback from facility managers and contractors across the U.S.," said Rosa Leal, Sr. Product Manager, Commercial Products, Rheem Air Division. "The result is not simply a redesign of our commercial HVAC product line, but an update to our manufacturing process, an improvement in lead times and distribution, as well as an update to all sales and training materials. Just as the name suggests, Renaissance is a revival of our commercial HVAC offering and is full of fresh, innovative technologies that will save money, protect the environment, and keep businesses running smoothly. "
All Renaissance™ products are built-to-order, providing business owners and commercial specifiers with customized solutions to suit their exact needs, design and application requirements. The units are ideal for many commercial applications including hotels, restaurants, food service facilities, offices, schools, senior care, athletic facilities, and retail locations.
Key features of the new Rheem Commercial Renaissance HVAC Line include:
Improved Product Footprint with matching connections — Drop-in replacement eliminates the need for a new curb adapter and enables the matching of the inlet, outlet and electrical connections of the most common commercial configurations.
PlusOne® HumidiDryTM — Saves energy, enhances performance, and increases comfort via an industry-first technology in the dehumidification market with a built-in VFD operating at a lower speed on first-stage cooling, when in reheat mode and when operating in occupied fan mode.
PlusOne ServiceSmart packages include:

Qwik-Change Flex-Fit Rack — Allows easy changeover between 2" and 4" filters
Qwik-Slide Blower Assembly — Easy access and removal of blower assembly to service internal components
Qwik-Clean Drain Pan — Slides out for easy cleaning and features a standard overflow switch 


PlusOne Diagnostics — A dual 7-segment delivers enhanced diagnostics with easy-to-understand fault codes
Available via a tri-tiered product platform, the Renaissance Line consists of Rheem® Commercial Prestige® Series, Rheem® Commercial Classic Plus® Series; and Rheem® Commercial Classic® Series.
* Applies to the Renaissance Commercial Prestige Series models only
** Applies to the Renaissance Commercial Classic Series models only