SEforALL launches new "Energizing Finance" report series at the United Nations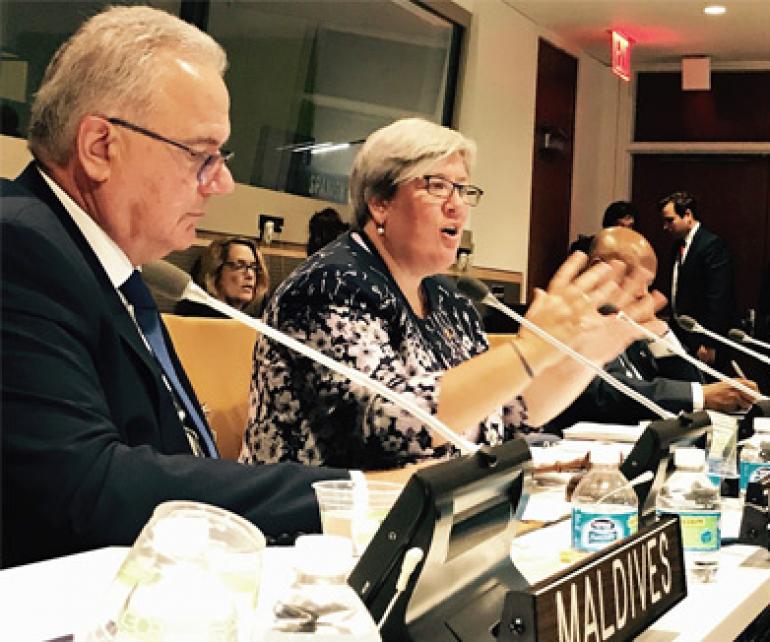 September 20, 2017: Joined by ministers from Africa, Europe and the Middle East, Sustainable Energy for All (SEforALL) formally launched its "Energizing Finance" report series yesterday at the United Nations aimed at advancing universal energy access goals by 2030.
The research package, unveiled on the opening day of general debate during the 72nd United Nations General Assembly, provides a first-of-its-kind analysis of development finance flows and the effectiveness of those flows for electrification access and clean cooking access in 20 key countries in Sub-Saharan Africa and Asia, which have significant energy access gaps.
"People had pieces of the puzzle on ecosystem finance but they couldn't see the overall picture. That's the origin of this collaborative research – to bring to light what was happening on financing specifically focused on closing energy access gaps," said Rachel Kyte, Special Representative of the UN Secretary General for Sustainable Energy for All and CEO of Sustainable Energy for All, speaking to a packed room at the UN. Watch the meeting again here.
The reports – produced in partnership with the World Bank Group, the African Development Bank, Climate Policy Initiative, E3 Analytics and Practical Action Consulting – showed that finance flows for electrification access in the 20 countries were substantially lower than levels needed to achieve universal energy access goals by 2030, as set forth under Sustainable Development Goal 7. Spending was especially low in Sub-Saharan Africa countries and on decentralized energy solutions, such as household solar systems, which hold great promise to provide basic electricity more quickly and more affordably to hard-to-reach rural populations.
Finance flows towards clean cooking access were shockingly low. Annual finance commitments that were tracked totaled about $32 million a year, compared to estimated annual investment needs of $4.4 billion. "We're nowhere near where we need to be (on clean cooking)," Kyte said.
The research also highlights scattered examples of progress – electrification gains in Kenya and Bangladesh and clean cooking gains in Indonesia, for example. It also includes recommendations to government leaders and development finance institutions for scaling and refining finance strategies to reach more people, more affordably, with sustainable energy.
Opening remarks were given by Neven Mimica, Commissioner for International Cooperation and Development, European Commission, in which he stressed the cost of inaction on not closing the energy access gap far outweighed the cost of accelerating action now. "These reports shine a light on the global and domestic effort undertaken to finance electrification and access to clean cooking fuels for those that need it the most. They highlight examples of progress made, as well as areas where additional efforts are needed, both in terms of international support and increasing domestic and private sector investments. We remain more determined than ever to play our part in ensuring universal access to energy as part of the wider commitments we all made as a community to deliver sustainable development."
Government ministers and representatives welcomed the research and were especially enthusiastic about the recommendations. "It gives concrete guidance to all of the critical players. This is incredibly important," said Martin Bille Hermann, State Secretary for Development Policy, Denmark.
H.E. Seleshi Bekele, Minister of Water, Irrigation and Electricity for Ethiopia, appreciated the focus on renewable energy and the urgency for new financing strategies in place of 'business as usual.' "There's no economy to be built, no social and environmental goals to be achieved, without access to energy," he said.
Ambassador Ali Al Shafar, Permanent Representative of the United Arab Emirates to IRENA, said he was struck by data showing that only 1 percent of energy access finance was going to more-affordable off-grid renewable energy. "Decentralized energy is the fastest and cheapest source or energy … it needs to be at the heart of the UN's energy work," he said.