Trane given supplier award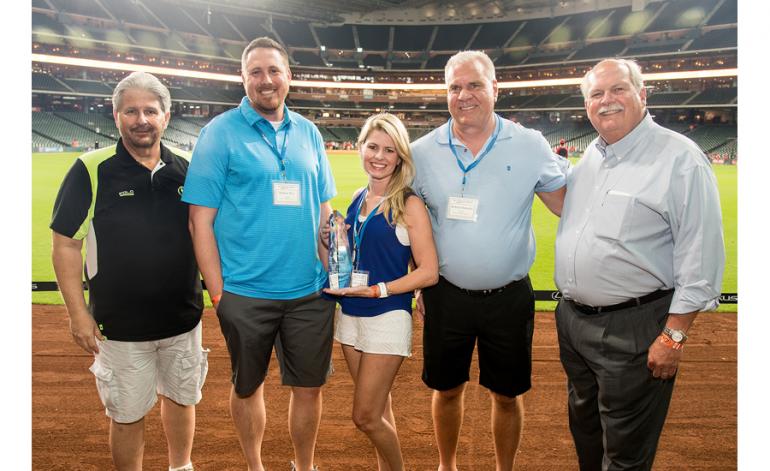 Officials from David Weekley present the Partner of Choice Award for Excellence to Trane. Bill Justus (left), vice president supply chain of David Weekley Homes; Nathan Way, Trane builder development manager-Dallas; Stacey Koepke, Trane builder development manager-south Texas; Rob Sornsen, Trane independent distribution builder development manager; and David Weekley, owner of David Weekley Homes, are on hand for the ceremony.
Homebuilder David Weekley Homes has given Trane it's A-A Partner of Choice Award for 2016.
Weekley gives the award to its top-tier suppliers, judged according to the builder's evaluation program. Less than 9 percent of the company's suppliers earn the honor each year, officials said. Trane has won eight times.
It's not an easy feat, said Bill Justus, vice president of supply chain services for David Weekley Homes.
"Brands have to successfully manage thousands of transactions throughout the year from manufacturing through installation and billing in order to achieve high rankings in our evaluation process," Justus said. "The length and breadth of our process means you can't talk your way to good scores. Through their actions, our friends at Trane have once again proven themselves to be world-class in delivering quality and service to our company."
Mark Wagner, vice president of sales for Trane, said the HVAC market company works hard to earn such honors.
"We are especially pleased to receive this recognition because of the positive product quality and service transactions it represents," Wagner said. "Our teams strive to deliver reliable quality and service day in and day out for our valued customers and their homeowners as a reflection of our brand promise and the commitment of our employees."